Technical analysis can be a great way of investing and making money in share market. To monitor the stock market trends you need technical analysis software.
Every stock in share market has historical track record, and technical analyst check for stocks chart to find trading opportunity.
Technical analysis software uses many different indicators to help you analyze that stock. There are many paid and free software available for technical analysis.
Paid technical analysis and charting software may cost you from Rs. 10,000 to Rs. 100,000 but what if you don't have that much money to invest. You may find some good free software, but they may not be as powerful as paid software.
ChartNexus is free Charting Software with great features. ChartNexus offer 3-year EOD (End of day) data (updated daily) for free. It comes with a comprehensive list of popular indicators.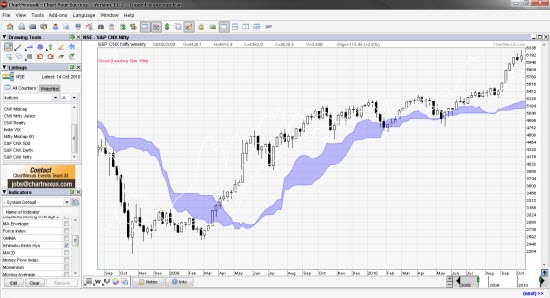 Here is a list of some of the main features of ChartNexus:
It comes with Free EOD (End-of-Day) daily market updates
ChartNexus provides historical data of 3 years
You arrange charts according to your preferences with its Multi-window charting system
Stock Market information includes BSE & NSE (India), AMEX, NASDAQ & NYSE (US), HKSE (Hong Kong, China), Bursa (Malaysia), JSX (Indonesia), HOSE (Vietnam), SET (Thailand), PSE (Philippines), SSE & SZSE (China), TWSE & TWOTC (Taiwan), SGX (Singapore), and World Indices.
Has a wide array of popular indicators
You can even customize indicator's parameters according to your specific requirements.
You can have the same kind of multiple indicators like MA20, MA14, MA10, etc. These multiple indicators can be set on the same chart.
You can have variety f chart types such as line, bar and candlesticks.
ChartNexus includes Tools for drawing shapes, lines, trend lines, arrows, doodling, and many more.
It provides a workspace so that you can save notes as well as your settings.
You can also print the charts
It provides a Spread Calculator to measure profits and losses.
With ChartNexus you can easily customize indicators, charts; background and can also do color settings, as well.