GST or Goods & Services Tax Law is a historic step towards indirect taxation system in India. It is all set to revolutionize the way in which India does it taxes. GST came into effect on 1st July 2017 and is applicable throughout India. It will replace multiple cascading taxes which are levied by the Central and State Governments.
GST is now in India and businesses are looking to have the best GST solution for their organization. Having the best GST Software means you have to consider your business nature and requirement.
It also means that the accounting and billing software you use for your business should be GST ready. As GST envisages implementing a new taxation system, things become a little complex on accounting and billing front.
On the whole, the accounting and billing software you use to handle business functions should incorporate and comply with GST rules, regulations, and guidelines so that there are correct tax calculations and proper management of business functions.
To help you out to become GST ready, we have featured a list showcasing 10 Best GST Accounting and Billing Software in India. These GST Accounting and Billing Software are equipped to handle GST Compliances, Auto-Calculation of GST, Invoicing, calculating correct tax component and its corresponding tax credits, capturing GSTIN, place of supply, and more.
GST Software
GST Software is equipped to handle all GST operations in organizations. It offers an easy to use accounting, and billing systems to meet the specific needs of different business entities for tracking GST. By using GST, Software businesses can go on to easily manage their accounts, inventory, purchase, sales, taxation, finances, and various other processes effectively.
What can GST Software do for you?
Businesses are fast adopting the implementation of GST Software for the hassle-free taxpaying experience. Besides paying the GST, business organizations stand to benefit in a number of ways by using GST Accounting and Billing Software.
Let's see what GST Software can do for you.
GST Software help businesses prepare proper invoice of their taxation as well as financial records conforming to the GST Standards, thereby regulating their income and expenses.
With GST Accounting Software, businesses can pay the tax returns with ease using e-payment facility.
GST Software helps businesses with e-filing of the returns and return reconciliation.
GST Software carries out effective client management for the business entities.
As all the computations are carried on the computer system, therefore they are completely validated.
All data that is relevant to organization's purposes can be easily imported using specialized GST accounting and billing software.
GST Software helps in credit management by improving overall cash flow in the business by allocating varying credit limits to different parties.
In case of any mismatch in the ITC filing, the GST Software can generate a proper report of the same.
GST Software helps in Budgeting & Controls.
They are available in multiple regional languages, thereby providing a common interface for organizations of all regions.
Additionally, GST Software offers updates, news, and articles about GST and other reforms.
Activities handled by GST Software
Inventory Management
Billing
Purchase Transactions
Discount & Schemes
Document printing
Taxation reports or registers
User-friendly invoicing
MIS reports
Utilities management
Extensive financial accounting
The GST Software plays an important role in regulating the indirect tax flow throughout the country. It helps businesses to act responsibly by paying timely and legit taxes to the government. It helps to increase profit margins of businesses by proper analysis of income and expenses together with tax filing with much ease. By using GST Software, businesses can effectively carry out tasks such as accounting, financial management, invoicing, inventory management, tax filing, and more.
Essential features in a Good GST Software
Flexibility: Good GST Software should be flexible enough so as to integrate well with the existing system. It should offer a seamless experience to the users.
Security: Good GST Software should be capable of ensuring secure transactions. It should protect all the confidential information related to a business. It should offer overall data security to the business entities.
Cognizance: The new GST regime requires a normal taxpayer (registered in one state) to file as much as 37 returns during one financial tenure. So, good GST Software should be able to contemplate possible events that are lined up for the businesses with respect to taxpaying. This will make sure that no deadline is missed and the business continues to function in a smooth way.
Compatibility: Good GST Software should be compatible on multiple platforms. It should be accessed from PCs, laptops, and Smartphones through the app. This will ease in the filing of tax returns through the online medium.
Reporting and User Interface: The GST Software should come with a simple and user-friendly interface. It should provide various MIS reports for fast decision-making.
Benefits of using GST Software
GST Software is a one-stop solution for meeting all the diverse business needs of any organization. Some of the benefits of using GST Software are listed below:
Inventory Management
Proper and easy tax filing
Tax management
Account activities management
Payroll activities management
Real-time Remote management
10 Best GST Accounting and Billing Software
Tally ERP 9 is easily one of the best software for managing business functions such as GST, accounting, payroll, and inventory. It is not only one of the most popular ERP Software, but also one of the most economical one too. It is being used by over 11 lakh businesses in India alone. If you want a simple but helpful GST Software, then Tally ERP 9 can be a perfect choice for small and medium businesses.
Tally ERP offers Invoice management, Inventory Management, Financial Management, Taxation Management, HR and Payroll Management, Supplier Management, Purchase Order Management, and much more. It is accountant friendly and does not require an internet connection.
Price:
Single User – Rs. 18,000
Multi-user – Rs. 54,000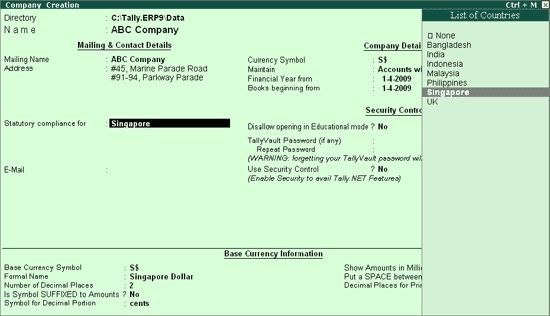 Busy Accounting Software comes as GST Ready for Small and Medium Businesses. It is one of the most trusted accounting software used by over 600,000 businesses in over 20 countries.
Busy Accounting Software is being used by SME's across geographies, industry verticals, as well as customer segments such as Retail, FMCG, Trading, and Service. It is helping them to manage their business effectively.
Price:
Basic – Rs. 6,400
Standard – 12,000
Enterprise Multi-User – 44,000
ClearTax is a leading accounting and billing software that offers GST services. It comes as a cloud-based GST Software and ensures that you never mistake or lose data. It offers GST Preparation and GST Filing. It provides three GST and Billing Solutions.
1. GST Software: Fill all GST returns with automated reconciliation online.
2. Free GST BillBook: You can prepare GST compliant invoices for free using GST bill book.
3. GST Enterprise Software: It is cloud-based GST Software for business organizations. You can make GST returns; prepare GST compliant invoices, and much more.
Pricing: Rs.7,500 per year
Zoho Books is leading accounting software which is now GST-ready too. By using Zoho Books accounting software, you can send invoices, track inventory, reconcile bank transactions, generate reports, and file GST returns easily and quickly.
It is cloud-based accounting software. It helps you to monitor inventory levels, create invoices, track bills and expenses, create purchase and sales order, generate business reports, and of course file GST returns.
Pricing: Rs. 2500/- per year
MARG ERP 9+ is a leading ERP Software that is GST ready. It has the status of being one of the top GST Software in India. It is studded with all accounting features to meet your business requirements.
Some of the salient features offered by Marg ERP 9+ include comprehensive Financial Accounting, Invoice Management, Inventory Management, Taxation Reports, Utilities, Billing features, Purchase Features, Document Printing, and much more.
Pricing:
Single User Rs. 7,200
2 Users Rs. 12,600
Unlimited Users Rs. 25,200
Quick books is a GST ready, powerful accounting and billing software solution. It is quite popular among small as well as medium business organizations in India. One notable aspect of Quick books is the interface which is easy to understand as well as easy to use. It is a cloud-based GST Software and helps in bookkeeping, preparing and filing of tax.
Price: Rs. 5000/- per year
ProfitBooks is comprehensive and competent accounting software capable of GST return filing. It is built keeping in mind non-accountant users, so it's super simple and easy to use. ProfitBooks comes as online accounting software and enables you to create invoices, track expenses, and manage inventory without the need to have accounting knowledge.
ProfitBooks is one of the easiest accounting software. You get GST ready as soon as you implement ProfitBooks. It automates everything, right from filing GST tax returns online to reconciliation. You can track entire inventory life cycle, from purchase to sales. It is loaded with powerful business accounting features. ProfitBooks offers a simple user-interface. It is easily one of the best GST accounting software.
Pricing: Starting at Rs.6,000 per year
Reach Accountant GST Software is a very user-friendly GST Software that can be customized according to your business needs to offer ease. It provides two types of GST Software. One is GST Filing Software for Tax Consultants, and another one is GST enabled Business Software.
It's GST Software comes in four variants:
• GST ERP Software
• GST Accounting Software
• GST Filing Software
• GST POS Software
You can do various GST tasks with this accounting and billing Software, such as GST Invoicing, GST Payment, GST Computation, GST Filing, GST Challan Generation, etc.
Pricing: Rs. 6000/- Annual
Giddh is comprehensive accounting software which simplifies all GST Computations, Invoices, Validation, and helps you to file your GST Return automatically. Giddh can be used to generate invoices as per GST standard, e-file return and payment, manage computation of Taxes together with Validation. It gives a high level of flexibility and security for managing all of your GST tasks.
Price: Rs. 800 per month
Reliance Jio has come up with GST Software Solution. The application enables you to upload and submit all returns with the secure data network. It can perform several GST tasks. The Jio GST is bundled with JioGST Starter Kit which is worth Rs.1999. When you buy the JioGST Starter Kit, you get the following things:
• Jio GST Software Application for 1 year
• Unlimited Voice Calling
• 24GB Free 4G Data for one year
• JioFi M2 Device
• Jio GST Billing App & much more
• Doorstep SIM activation in select cities
You can order JioGST Starter Kit on Jio.com
We hope that this presentation on 10 Best GST Accounting and Billing Software in India proves immensely helpful to you. If you liked the post, do share it with friends and colleagues. We always look forward to your valuable comments.