If you've decided to become a Bitcoin miner, then you will need some mining software. In this article, we will look at the 10 Best Bitcoin Mining Software packages on offer.
Bitcoin has taken the world by storm over the past decade. What everyone wants to know is how they can get their hands on some Bitcoins? There are two ways to buy them from someone or cryptocurrency exchange, or you can get involved in mining Bitcoin.
Mining Bitcoin used to be accessible to everyone and was previously possible on a laptop. Eventually, people figured out they could use graphics cards to mine, and eventually now big companies developed technology to mine Bitcoin more efficiently.
Mining has become such a competitive field that you now need specialized machines, such as ASICs and FPGAs, to mine Bitcoin, as well as access to cheap (or free) electricity.
The benefits of mining Bitcoin include strengthening the Bitcoin network by making it harder to 51% attack and the potential to earn some money. The more miners there are and the more distributed the hash rate of Bitcoin is, the more resilient the network and the longer it will last.
You will also need to ensure you are downloading the Bitcoin mining software from a safe or genuine source, as many hackers try to embed viruses to steal your Bitcoin into fake versions of Bitcoin mining software or through phishing. Also, be sure to check out the Bitcoin Talk channels and the Bitcoin Mining Reddit channels for feedback on each miner to ensure they are safe before downloading or using them.
You may like: 20 Best Bitcoin Wallets
Top 10 Bitcoin Mining Software
Here are some of the top Bitcoin Mining Softwares, have a look:
1. CGMiner Command-line Bitcoin Miner
One of the most well-established pieces of Bitcoin mining software is CGMiner, which has been around for quite a while and has active community support. The code was provided entirely free of charge by the programmer Con Kolivas and had his Bitcoin address posted on the GitHub page for donations.
CGMiner is a command-line application written in C, which may put off newbies. You can still manage settings using a menu, control the fan speed, and set up remote interface capabilities.
CGMiner is probably the best all-around Bitcoin mining software as it supports many different platforms, including Windows and Mac OS X, and is compatible with both ASICs and FPGAs. CGMiner supports most Bitcoin ASICs. Additionally, the software supports GPUs meaning it is accessible to the hobbyist miner as well.
There is also a dedicated support thread on the Bitcoin Talk forum and IRC, so if you are having issues with CGMiner, you can ask for help in either of those channels. There is also a lot of documentation on the GitHub page relating to the hardware's advanced control features, so make sure you read this before fine-tuning your mining machines.
2. BitMinter Bitcoin Mining Pool
BitMinter is considered the best Bitcoin mining software for cross-platform usage, with support for Windows, Linux, and Mac OS X. There is an aesthetically pleasing and straightforward graphical user interface, so the software is user-friendly as well.
A unique feature of BitMiner is that the software has its own accompanying mining pool, which has been running since 2011. BitMinter's software is based on the Java Network Launch Protocol (JNLP) and does not require any installation.
To get started, you will need to sign up to BitMiner's mining pool, configure your ASIC hardware using the instructions, and then you can start mining Bitcoin. BitMiner's pool takes a one percent fee, and the work performed by your miners are recorded in shifts.
BitMinter supports a range of ASICs, including the AntMiner series, the Block Erupter USB and other Icarus-compatible hardware, and the Red/Blue Fury.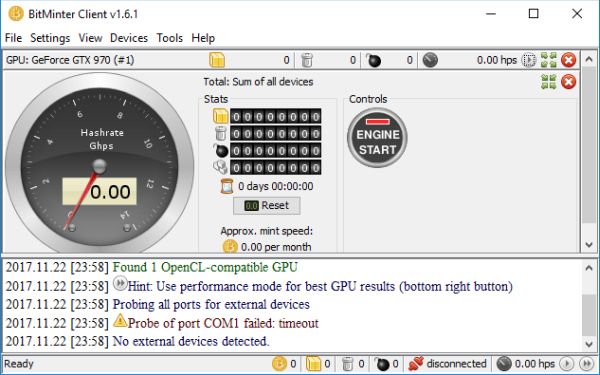 BFGMiner is based on CGMiner, but the main difference is that BGFMiner uses the newer getblocktemplate, whereas CGMiner uses the older getwork template. The getblocktemplate allows blocks to be created by the miner instead of the pool, promoting decentralization of mining, and you can read more about this topic here.
If you like to tinker with miners, customize your Bitcoin mining software and build mining rigs, then BFGMiner is the Bitcoin mining software for you. However, this software may not be for you if you are new to mining since it aims at more advanced users.
Also, BFGMiner is not as accessible as some other Bitcoin mining software packages on the list since it only supports FPGAs and ASICs. Those people looking to utilize their GPU to mine Bitcoin will not be able to with BFGMiner.
Some of the advanced features include dynamic clocking, monitoring, and remote interface abilities. It is a versatile program since you can run it on Windows, Linux, Mac OS X, and even a Raspberry Pi, a pretty cool feature.
While it is text-based, the BFGMiner interface is relatively straightforward and easy to use, with hotkeys to choose different options.
4. BTCMiner Open Source Bitcoin Miner
BTCMiner is another good open-source Bitcoin miner for ZTEX USB-FPGA modules that is compatible with Windows and Linux. This software is specifically designed to be used with FGPA boards, which contain a USB interface used for communication and programming, some of which are listed below:
Spartan 6 USB-FPGA Module 1.15b with one XC6SLX75
Spartan 6 USB-FPGA Module 1.15d with one XC6SLX150
Spartan 6 USB-FPGA Module 1.15x with one XC6SLX150
Spartan 6 USB-FPGA Module 1.15y with one XC6SLX150
The BTCMiner software is for the more advanced miners out there since you cannot just plug and play with ASIC machines or your PC's or laptop's CPUs or graphics cards.
However, some of the advantages of BTCMiner include; the software automatically chooses the frequency with the highest rate of valid hashes, cluster mode, which allows you to run a large amount of FPGA boards, and ready-to-use Bitstream, meaning no Xilinx software or license is needed.
While most of the software mentioned so far is great if you have one mining rig, Awesome Miner is the complete solution for managing multiple mining rigs of various types. For instance, you might have one mining rigs composed of ASICs and another that are FPGAs.
25+ mining engines, including cgminer, bfgminer, xmrig, etc., are supported by Awesome Miner. It also supports many different mining algorithms such as SHA-256 (which is what Bitcoin uses), Scrypt (Litecoin's mining algorithm), X11 (which is what Dash uses), and many more.
This mining software generally works on Windows but offers a web front-end so that you can use it from any computer, tablet, or smartphone.
There is a detailed dashboard that allows monitoring the status and temperature of all your ASIC and FPGA devices from a single location, as well as an in-built C# script engine that enables you to create customized triggers and actions.
6. EasyMiner Bitcoin Mining Software
EasyMiner is the best Bitcoin mining software that provides a graphical user interface for managing multiple tools, and it is aimed at beginners who do not want to use a command-line tool.
The program visually represents your mining statistics and performance; however, it is only supported on the Windows and Ubuntu platforms.
One of the unique features of EasyMiner is the "Moneymaker" mode, which allows you to create a Litecoin paper wallet and connect to Easy Miner's own private Litecoin mining pool. You can also mine solo or connect to external pools.
You may have trouble installing EasyMiner as Windows Antivirus software may flag it as malicious, which is suspected to be due to some hackers using a malicious version of EasyMiner as part of a botnet attack.
One security feature of the EasyMiner software is the Network Hardware ID Layer protocol, which provides an extra layer of security for wallet architecture and the pool stratum.
While many Bitcoin mining software is command-line applications, MultiMiner is one of the easiest to use Bitcoin mining software packages and has a graphical user interface.
MultiMiner is open source, supports different platforms such as Windows, Linux, and Mac OS X, and allows you to mine Bitcoin and other cryptocurrencies such as Litecoin with GPUs, ASICs, and FPGAs. Once you have installed the program, the underlying mining engine detects any mining hardware available and lets you choose which cryptocurrencies you want to mine with them.
While MultiMiner is easy to use on Windows, setting it up on other platforms is not easy and requires some work.
Despite being easy to use, MultiMiner also offers features tailored to advanced users, such as direct access to API settings and engine arguments.
8. CCMiner Open Source Miner Project
CCMiner is one of the most popular software packages for NVIDIA graphics cards. There are different variants of CCMiner and offer each other a lot of competition, making the code very polished and bringing many features.
The software is compatible with Windows and Linux operating systems.
CCMiner is actively developed for about six years and was formerly known as Cudaminer in the early days of Bitcoin. For some coins, it is the fastest miner available.
If you have an NVIDIA graphics card, then CCMiner is your essential mining software piece since it can mine pretty much every type of cryptocurrency mining algorithm.
There is a discussion thread for CCMiner on Bitcoin Talk, so visit their thread if you have any questions or comments.
9. GUIMiner Bitcoin Mining Software Windows
Aimed at the less advanced miners, GUIMiner provides a graphical user interface to mine Bitcoin and supports AMD and NVIDIA graphics cards, as well as CPU mining. GUIMiner is based on Poclbm, the first open-source GPU mining software to be produced for Bitcoin.
You are also given the option to choose between pooled mining and solo mining, and the software provides a list of mining pools to select from. Other features include real-time statistics on all of your miners, automatic start, and the software window can be minimized.
You can only mine Bitcoin with GUIMiner, and if you want to mine Litecoin, you can do so with the sister program, GUIMiner Scrypt.
There is an official forum thread for GUIMiner on Bitcoin Talk, so if you have any questions or feedback, be sure to comment there.
Bitcoin Miner was created by GroupFabric Inc. and is available for free on the Microsoft store, ready to be downloaded onto your PC, laptop, tablet, or mobile phone. The software was released in mid-2013 and had plenty of positive reviews on the Microsoft store.
Bitcoin Miner is easy to use/easy to set up and has an excellent graphical display, but only offers you the chance to mine Bitcoin with your CPU and GPUs. If you have only one GPU, it may not be worth running this miner at all, as the power efficiency is not that great.
Your device's minimum hardware requirements are that it must have Windows 10 installed, and the default mining pool payouts your earnings weekly if they are at least 5000 Satoshis.
Some other features include a night mode, power-saving mode, profitability reports, and fast share submission. The software supports SHA-256 and Scrypt, meaning you can mine both Bitcoin and Litecoin.
To conclude, Bitcoin Miner is for beginners and offers an easy way to mine some Bitcoin or Litecoin using very simple hardware.
That's all in this Bitcoin Mining Software post. Please do share which mining software you use and your experience with them.