Well, guys, I presume that you know about Bitcoin or Cryptocurrency. Moreover, I am pretty sure that you might own some Bitcoins too.
However, let me ask you an important question: Where do you keep those Bitcoins?
Well, the important thing for you is the fact that you need to guard the ownership of your Bitcoins.
Services such as Bitcoin exchanges or hosted Bitcoin Wallets are not at all the best places to guard the ownership of your Bitcoins.
These services tend to keep your Bitcoin "Private Keys" under their custody.
It's not a safe practice as the Bitcoin Private Key is the only way by which you can claim your Bitcoins.
So, the question arises, where should you be keeping your Bitcoins?
Well, Bitcoin/Cryptocurrency Wallets tend to be the best places to guard your bitcoins. These wallets are hard to hack and store your private keys.
This write-up allows you to select a reliable Bitcoin Wallet. Herein, we have featured 20 Best Bitcoin Wallets, including desktop, mobile, as well as hardware wallets.
We have considered the following features while selecting these Bitcoin Wallets, such as:
Ease of use: Elegant, fast, and easy-to-use UI
Control Private Keys: A wallet that allows you to own and control your keys
Compatibility with different operating systems
Backup & Security features
The active developer community for easy maintenance
So, let's get started.
First, we have a short yet insightful account on Bitcoin Wallet. We will also discuss the types of Cryptocurrency/Bitcoin Wallets.
Finally, we move on and present to you the best cryptocurrency wallets, including hardware wallets, mobile wallets, desktop wallets, as well as web/online wallets.
Let's begin:
What is Cryptocurrency/Bitcoin Wallet?
Cryptocurrency/Bitcoin Wallet is a digital wallet (software program) for storing Bitcoins. Establishing a Bitcoin Wallet is crucial for obtaining Bitcoins.
Nowadays, millions of people are using Bitcoin wallets. However, these digital wallets don't store currency in any physical form. They contain records of transactions that are stored on the blockchain.
A Bitcoin Wallet stores the relevant information such as the secure private key which is used for accessing the Bitcoin addresses as well as for carrying out transactions.
They store your public and private keys and interface with various blockchain allowing users to monitor their balance, sending money, and conducting other operations.
When a person happens to send you Bitcoins, they are merely signing off the ownership of the coins to your wallet's address. For unlocking the funds, the private key that is stored in your wallet should match with the public address for which its currency has been assigned.
When the public and private keys match, the balance that is there in your digital wallet will increase, while the balance that is there in the sender's account will decrease accordingly.
However, you must know that there is no exchange of real coins. The transaction is identified with the transaction record that is there on the blockchain, and a change occurs in the balance that is there in your Cryptocurrency wallet.
So, technically speaking, a Bitcoin wallet saves the private key (secret number) for every Bitcoin address of the person who owns the balance. You can send and receive Bitcoins, thus giving them ownership of the Bitcoin balance to the user.
So, a Bitcoin Wallet is central to the whole idea of Cryptocurrencies.
The Bitcoin wallet is available in many forms. Hardware, Mobile App, Desktop Software, and the Web are the four main types of Bitcoin wallets. Hereunder, we have offered the details of these four main types of Bitcoin wallets.
The approach to Cryptocurrency/Bitcoin (which is a digital currency) is completely different from regular or traditional currencies with respect to acquiring or storing it. In fact, Bitcoins don't come in any physical shape or form. So, technically, they can't be stored anywhere.
Instead, it's the private keys (secret number) that are securely stored for accessing your public Bitcoin address as well as for signing in for transactions. The recipient's public key and your private key are used in a Bitcoin transaction.
Types of Cryptocurrency Wallets
There are different types of Cryptocurrency / Bitcoin wallets each providing different ways of storing and accessing your digital currency.
Essentially, there are three distinct categories of Cryptocurrency Wallets:
Further up, Software Wallets can be broken down into:
Desktop
Mobile
Online (Web)
These Cryptocurrency/Bitcoin Wallets cater to different needs. Moreover, they come with different security levels.
Here, we offer you details about five of the most popular types of cryptocurrency wallets. Let's explore them one by one:
Desktop Wallets
Desktop Wallets have to be downloaded and installed on your desktop computer. They store your "private keys" on your computer hard drive. These wallets provide complete control to the user and are more secure than other cryptocurrency wallets such as mobile wallets and online wallets.
Desktop wallets don't rely on third parties for their data. Plus, they are hard to steal. However, when connected to the Internet, they become inherently insecure. That said, desktop wallets come out as good options for the ones who want to trade small amounts of Bitcoin from their computers.
Mobile Wallet
A Mobile BTC Wallet proves a very handy tool for the ones who actively use Bitcoins daily. Mobile Wallet runs on an app with your smartphone. It stores your private keys and allows you to pay for things directly from your smartphone.
Mobile Wallets make use of Simplified Payment Verification (SPV) technology. They are very reliable and convenient when you need an on-the-go solution for Bitcoin storage.
There are scores of Bitcoin Wallet Apps for devices that run on Android. You can even get Bitcoin wallets from the Apple App Store.
However, the problem with Mobile Wallets is that they are prone to hacker attacks. You can even lose control of your mobile wallet in the case when someone gains access to your mobile device.
Hardware Wallets
Hardware Wallets are recognized as the most secure kind of Bitcoin Wallet. It stores the Bitcoins on a physical piece of equipment that can be plugged into a computer through a USB port.
Moreover, these Bitcoin Wallets store the user's private keys with the secure hardware device. They can store any amount of Bitcoins. These wallets are immune to virus attacks. Very few cases of Bitcoin theft have been reported.
However, these Bitcoin wallets aren't free. They can cost somewhere from $100 to $200.
Web Wallets
As far as Web Wallets are concerned, these digital wallets allow you to use Bitcoins with any browser or mobile. It stores your private keys on a server of a company that provides such services.
These are often referred to as e-wallets or online wallets and enable users to access their funds on-the-go using any device that is connected to the Internet.
However, they are the least secure type of cryptocurrency wallets. That said, Web Wallets can be used for a small number of cryptocurrencies for making crypto-payments.
You may also like: 15 Ways You Can Earn Bitcoin
5 Best Cryptocurrency Hardware Wallets
Here, we have presented some of the best cryptocurrency hardware wallets.
It is arguably the safest type of cryptocurrency wallets out there. It goes on to store your private keys on a device such as a USB drive.
It allows you to make online transactions. However, they are offline most of the time, and hence, they are even referred to as a cold wallet.
Hardware Wallets offer many advantages. Some of its prime advantages include:
It is one of the safest cryptocurrency/Bitcoin wallets out there.
They can be used for storing a large number of crypto-currencies.
However, these are the most expensive type of cryptocurrency wallets. They are not as user-friendly for beginners. That said they are the best cryptocurrency/Bitcoin wallets for storing large crypto amounts.
Now, let's get to know the 5 Best Cryptocurrency Hardware Wallets. Here's the list for you:
Ledger Nano S is the first and the only independently-certified hardware wallet out there. It is fully certified by ANSSI which is the French cybersecurity agency. It allows you to protect your crypto assets. It has been built using a secure chip that offers optimal security.
exc never exposes your private key that gives access to your coins. It is protected within a secure chip that is locked by a PIN Code.
Another salient feature with Ledger Nano S is its multi-currency support. In fact, Ledger Nano S supports over 1100 Crypto Currencies such as Bitcoin, XRP, Bitcoin Cash, Ethereum, EOS, Stellar, and more. So, it allows you to manage multiple assets with the same hardware wallet.
The device offers complete simplicity and ease of use. It can be controlled by only two buttons. Moreover, all actions can be verified on their screen.
Your crypto assets remain safe even in the case you lose your Ledger Nano S. A confidential recovery phrase tends to back up your device, and you can restore your account on any Ledger device.
The Ledger Nano S offers you a display screen so that you can verify all sensitive information. Crypto Asset transactions become easy and can be controlled by only two buttons.
It comes studded with the Ledger Live companion app that allows you to check your balance, send, or receive crypto assets.
These hardware wallets are powered by BOLOS, which is a unique proprietary operating system. It creates a unique shield around each app on your device, thereby protecting all the sensitive information.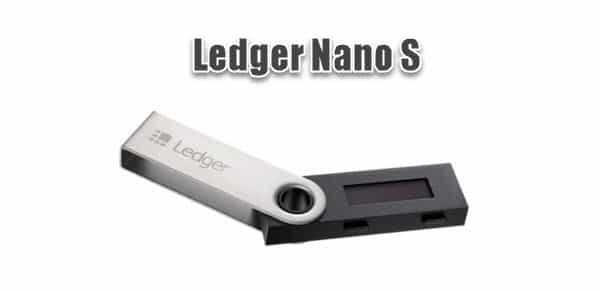 Trezor is one of the safest places for your cryptocurrency. It supports more than 1000 cryptocurrencies, including Bitcoin, Litecoin, Binance Coin, Dash, Zcash, NEM, Ethereum, Ethereum Classic, and more.
Trezor allows you to store, manage, and safely trade your cryptocurrencies. It's a reliable place to secure your digital assets and has been invented for your complete digital freedom.
Key features:
Transparent security
5-star customer support
Intuitive & convenient interface
It's always accessible via your personal 12 to 24 words long recovery seed
Trusted and endorsed by companies of all sizes
It manages your entire digital identity – coins, keys or passwords
Compatible with many applications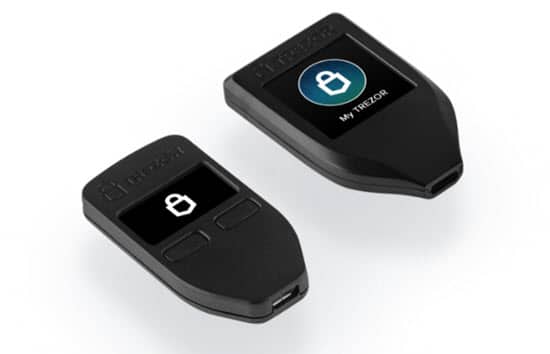 Ledger Nano X is one of the most advanced hardware wallets on the market. It protects your crypto assets no matter wherever you go.
Ledger Nano X is studded with state-of-the-art security. In fact, your private keys have been safely isolated inside the device using the certified secure element (CC EAL5+) that is used in highly secure applications.
Plus, the Ledger Nano X has been enabled with Bluetooth. It can be connected with your smartphone with the Ledger Live Mobile App and transact safely anywhere. It is encrypted end-to-end and protects against any security threat.
Moreover, your crypto assets stay safe even in the case when you lose your device. You can use the 24-word recovery phrase (it is provided when you initialize your device) and restore your accounts on any Ledger device.
The Ledger Nano X can be used to store up to 100 applications at the same time, such as Bitcoin, Bitcoin Cash, Stellar, Ethereum, EOS, and more. So, you can manage all your assets on your device at the same time.
The Ledger Nano X has been built keeping simplicity and ease-of-use in mind. It comes studded with two buttons and one screen that you can use to control your device. The device is compatible with 64-bits desktop computer (Windows 8+, macOS 10.8+, and Linux). It is also compatible with Smartphones that run on iOS 9+ or Android 7+.
KeepKey is one of those hardware wallets that allow you to achieve financial freedom most securely. It's rightly the next frontier of crypto security that protects your cryptocurrencies, storing your private keys offline and thus safeguarding your assets from hackers.
KeepKey delivers stress-free security by managing your private keys offline. It guards them against computer vulnerabilities and viruses and utilizes wallet software for safe transactions.
With KeepKey, you get straightforward backup and recovery. It generates a 12-word recovery sentence during initialization, which you can use to retrieve your private keys. So, it offers complete peace of mind. Your funds are secure even in case you lose or break your KeepKey.
KeepKey comes with a large display offering you full clarity when you send or receive digital asset on your device.
Moreover, you are required to manually approve every transaction by using the confirmation button. So, you get full control and visibility over your transactions.
KeepKey gives you effortless exchanges via the ShapeShift integration, directly through your wallet. It gives PIN protection against unauthorized use. There's additional passphrase protection.
Plus, it offers customizable transaction speeds and much more. So, if you're serious about crypto, then KeepKey Hardware Wallet comes out as a good option for you.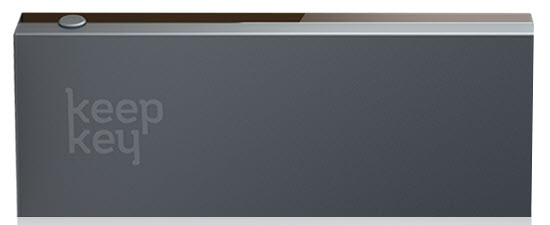 Trezor One is one of the best Bitcoin Hardware Wallet whether you're new to Bitcoin or already a security expert. You can use it without risk. With Trezor One, there is no danger of viruses and keyloggers. It's a USB 2.0 device which is compatible with Windows, Linux, and macOS.
Trezor One supports more than 1000 coins, including Bitcoin, Litecoin, Dash, Zcash, Nem, Bitcoin Cash, Bitcoin Gold, Ethereum, Namecoin, and more. Its CE and RoHS Certified. So, it meets all quality, environmental, and reliability standards.
Here, we offer you details about its technical specifications:
Dimensions and Weight: Its size is 60mm x 30 mm x 6 mm, and weight is 12g
Operating temperature from -20 degree Celsius to +60 degree Celsius
Connectivity through Micro USB
Screen: Bright OLED (128 x 64 pixels)
CPU: 120 MHz embedded ARM processor running a custom developed system
The box offers you:
Trezor device
Micro USB Cable
2x Recovery Seed Booklet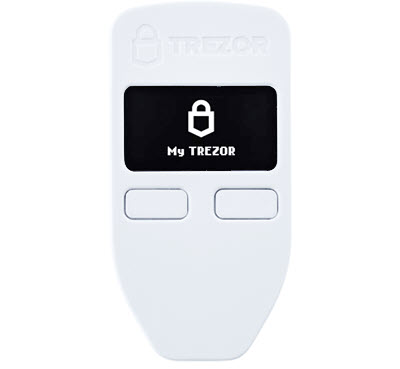 5 Best Bitcoin Mobile Wallets
Here, we share with you 5 Best Cryptocurrency Mobile Wallets. Mobile Wallets run on your cell phone through an app. The best thing about Mobile Wallets is that they can be used anywhere, including retail stores. Plus, they are simple and easy-to-use.
Some advantages of mobile Bitcoin wallets are as follows:
They are much safer than online wallets
Convenient to use on the go
Come with additional features like QR Code Scanning
However, you run the risk of losing your crypto assets in case your phone gets damaged or lost. There is also the risk of mobile viruses and malware.
Now, let's explore the best mobile wallets out there. Here's the list for you:
Mycelium Cryptocurrency Wallet helps you to send and receive Bitcoins via your mobile phone. Its cold storage functionality allows you to secure your funds until you want to spend them fully. Here, we have listed some features of this mobile wallet:
It offers 100% control over your private keys
Superbly fast connection to the Bitcoin network through its supernodes
No blockchain download or install and run in seconds
HD enabled
You can manage multiple accounts
You can secure your wallet with a PIN
Compatible with other Bitcoin services
Support for BIP38 Keys
Dynamic fee handling
Encrypted PDF backup
Deterministic signatures for Bitcoin transactions
Compact QR Codes (BIP73)
Moreover, lots more
7. Edge (Android, iOS Mobile Wallet)
Edge is one of those mobile wallets that simplify all your digital asset needs. It allows you to buy, store, trade, dozens of cryptocurrencies. Edge comes with cutting edge security, user privacy, and ease of use. Moreover, it offers a user-friendly platform for beginners and experts alike.
Edge offers multi-asset support, including Bitcoin, Ethereum, and many others. It enables you to hold your assets safely. Securing your assets with Edge is easy. You can easily exchange one blockchain asset with others. It allows In-app to buy and sell, mobile top-ups, gift cards, as well as the crypto to crypto exchange.
Moreover, the Edge wallet has a top-notch security track record. All you require is a username and password. It is only you who can access and control your assets. You get full control over your private key. It does not want any of your private information.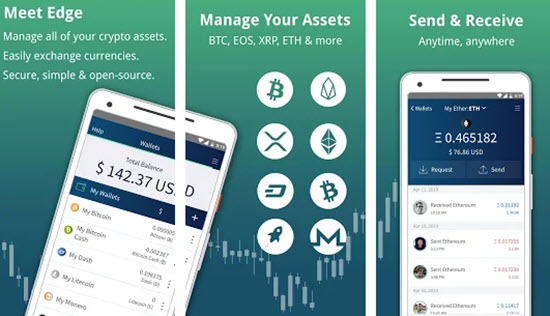 8. Coinbase (Android, iOS Mobile Wallet)
Coinbase is one of the best mobile wallets for buying, selling, and managing your cryptocurrency portfolio. It is the perfect place for trading cryptocurrencies. Coinbase allows you to create your cryptocurrency portfolio easily. You can buy and sell popular digital currencies, and keep track of them in one place.
It facilitates recurring buys of cryptocurrency by scheduling buys daily, weekly, or monthly. It offers vault protection for added security that is related to the storing of funds. It takes careful measures to ensure that your Bitcoin is as safe as possible.
It follows a 2-Step Verification on all accounts. Besides entering your username and password, you need to enter a code from your mobile phone that proves an extra layer of security for your account.
Moreover, it stores the private keys using AES-256 encryption. The digital currency that is held online with Coinbase is insured. So, the insurance policy would payout if any customer funds are lost as a result.
Moreover, Coinbase holds less than 2 percent of customer funds online. The rest is held as offline storage. Coinbase follows industry best practices and supports most of the popular digital currencies.
Samourai is a modern Bitcoin mobile wallet that keeps your transactions private with the most advanced privacy-enhancing technologies on the market. It bypasses data network restrictions with offline sending. So, you can take it anywhere, even offline.
Samourai ensures that you're always in control of your private keys. In fact, you face no hassles working with Samourai. No email address and no ID checks. You need to install it, and you are ready to go.
Samourai works under any network conditions which prove an attractive option for those who want to create ultra-secure cold storage systems. So, you need not face cost-prohibitive network conditions.
Moreover, Samourai Wallet supports SegWit, which allows users to create efficient transactions keeping miner fees as low as possible. You can do business on the Bitcoin blockchain with the minimum miner fees. So, there is no overpaying for your transactions.
Samourai uses the PayNym and defends against the "First Touch" attack by never disclosing an address to anyone other than the sender as well as the recipient of the transaction.
The PIN access screen is randomized on every load to thwart screen recording spyware as well as other common attacks. Plus, you get many more features with Samourai Wallet.
10. TrustWallet (Android, iOS Mobile Wallet)
TrustWallet is one of the most secured multi-coin wallets for Android and iOS. It's the official cryptocurrency wallet of Binance.
TrustWallet offers total security for cryptocurrency transactions. For instance, your private key is only stored locally. It is protected with many layers of security.
It offers full support for any ERC20 and ERC223 tokens on Ethereum network. It comes with support for leading crypto protocols and cryptocurrencies (ETH, POA, VET, GO, ETC, and others).
TrustWallet will never access any of your personal information. It always keeps your data private and secure.
It works seamlessly with Binance DEX so that you can make instant trades on the decentralized exchange. Its Web3 Browser allows you to interact with decentralized applications directly from the app.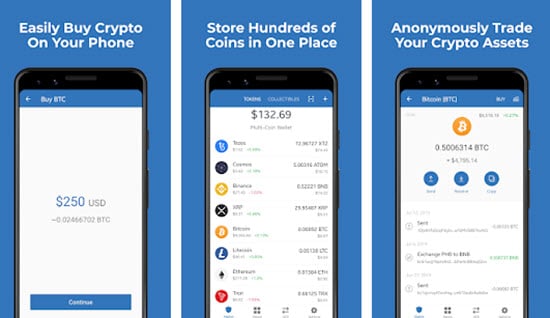 5 Best Desktop Bitcoin Wallets
Here, we present to you 5 Best Desktop Bitcoin Wallets out there. Desktop Wallets can be downloaded and installed on a PC or laptop.
However, they are accessible only from a single computer where they are downloaded.
These wallets provide one of the best levels of security. They are safer than online wallets. They are particularly safe when your computer is not connected to the Internet. It then essentially becomes a cold wallet.
Some of the benefits of using desktop Bitcoin wallets include:
It proves a convenient choice for all those who want to trade cryptocurrencies from their computers
It is extremely safe when your computer is not connected to the Internet
Your private keys are never stored on a third-party server
However, desktop wallets make it hard for you to trade crypto-assets on the go. Further up, when your computer is connected to the Internet, it can turn to a less secure hot wallet. You can lose your crypto in case something goes wrong to the computer.
Now, let's take the list of 5 Best Desktop Wallets. Here's the listing for you:
11. Exodus (Windows)
Exodus Wallet is one of the most outstanding desktop Bitcoin wallets out there. This creative masterpiece has been crafted by JP Richardson and Daniel Castagnoli in mid-2015. This desktop-only wallet supports Bitcoin and more than 30 other cryptocurrencies & tokens.
It is a fully user-friendly and self-hosted crypto wallet. It needs no registration or KYC check to use this wallet other than your email ID for backing up your seed.
It is useful for intermediate as well as advanced users. It is SegWit enabled and supports multiple operating systems such as Linux, Mac OSX, and Windows.
Moreover, it is completely free to use. Exodus has gained some serious momentum ever since its launch. It allows you to hold various altcoins, including Ethereum, Dash, Litecoin, and more. Its interface is super easy to understand.
12. Electrum (Windows, macOS, Linux)
Electrum is regarded as one of the oldest Bitcoin wallets out there. It was launched in November 2011. It's an open-source project that has been released under an MIT license. Moreover, Electrum is a lightweight wallet, and so it is not necessary to download the whole blockchain for sync.
Electrum is available in both mobile and desktop versions. It's a self-hosted wallet that allows you to control your seed and PIN. Electrum is useful for both Intermediate as well as advanced users. It is SegWit enabled and supports Windows, Mac OSX, and Linux operating systems. Moreover, Electrum is completely free.
Electrum is a secure and effective desktop wallet out there. Also, it's open-source. So, there is a minimum chance of malicious code inside the software.
However, its interface might look ugly to some of you. It has the looks of 90's versions of Windows. On the whole, it's an excellent wallet if you know and understands Bitcoin good enough to use it.
13. Atomic (Windows, macOS, Linux)
Atomic comes as a Universal Cryptocurrency Wallet that allows you to manage your Bitcoin, XRP, Litecoin, Ethereum and as much as over 300 other coins and tokens in a single interface.
With Atomic, you can exchange your assets through non-custodial Atomic Swap using decentralized order book. Atomic is thoroughly secured, decentralized, and anonymous cryptocurrency wallet.
It's available for most of the popular operating systems including Windows, macOS, Ubuntu, Fedora, and Debian. Atomic Wallet latest version is 2.1.0.
With Atomic Wallet, you can send, receive, exchange, and buy cryptocurrency. It offers a thoroughly reliable and transparent service, which reduces your effort into managing crypto assets. It allows you to proceed with cross-chain exchange avoiding third-party risks.
It offers you the highest level of security with strong encryption. Your private keys get encrypted and never leave your device. So, you get full control over your funds. Plus, it makes it easy for you to handle all your crypto assets.
14. Bitcoin Core (Windows, macOS, Linux)
Bitcoin Core comes as a full node Bitcoin Wallet that has been developed by Bitcoin core developers. So, you need to download the whole Bitcoin blockchain for sending or receiving a transaction.
It is available for Mac, Windows, and Linux. It comes as one of the most featured Bitcoin wallets out there. It offers many facilities for BTC transactions. It is completely free, and SegWit enabled. However, it is suitable for advanced users.
15. Jaxx Liberty (Windows, macOS, Linux)
Jaxx is another popular Bitcoin wallet. It has been maintained and developed by a Canada based start-up named Decentral Inc. Jaxx comes as a multi-currency wallet and supports many altcoins, including Bitcoin.
Jaxx offers protection to your wallet through a PIN feature and lets you store your seed. It also has an inbuilt crypto exchange as ShapeShift.
Jaxx supports over 40 coins/tokens. The private keys import and export facility has been in-built in the wallet. Jaxx has overhauled its UI to offer you a newly built wallet that's now in beta phase.
The best thing with Jaxx is that it can be used by all including beginners, intermediate, as well as advanced users. It is SegWit enabled and supports operating system such as Windows, Linux, and Mac OSX. Plus, it's completely free.
5 Best Cryptocurrency Web Wallets
Here, we share with you 5 Best Cryptocurrency Web Wallets that are also known as Bitcoin Online Wallets.
In fact, Online Wallets or Web Wallets are one of the least secure types of cryptocurrency/Bitcoin wallets out there.
However, they can be used for small amounts of cryptocurrencies. It allows you to access your crypto through the Internet. Your private key is stored on the server of the online wallet provider.
Online Wallets offer many advantages, including:
It enables fast transactions
It can manage multiple cryptocurrencies
They can be used on the go for active trading
They can be accessed from any computing device in any location. So, they are convenient to access
However, Online Bitcoin Wallets run the risk of hacks and scams. There's even the risk of computer viruses. Third-Party stores your cryptos, not you.
Now, we list out the best online wallets for you:
If you're looking out for a safer option in Online Bitcoin Wallets, then you must surely give a serious look to GreenAddress. It puts you in control with improved security.
Moreover, it delivers security as well as convenience that you desire with a Bitcoin wallet. It comes with two-factor authentication, multi-signature, as well as a deterministic wallet that allow full control over your transactions.
Plus, it never stores your private keys, not even in the encrypted form. You can check your balance and transactions from public Wi-Fi, Starbucks, and on the go.
Its "watch-only" mode allows you to check your balance or receive funds without the need to access your wallet. It offers quick PIN login to your wallet from any of your devices.
On the whole, GreenAddress delivers instant confirmation, improved security as well as privacy.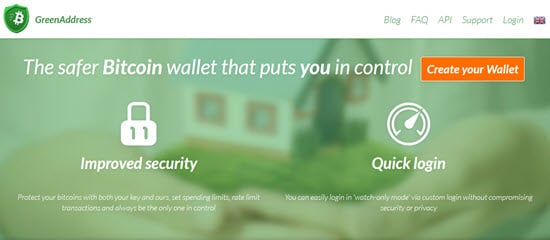 Coinbase Bitcoin Wallet allows you to buy, sell, and hold cryptocurrencies easily. It currently supports Bitcoin, Bitcoin Cash, Ethereum, and Litecoin. You can connect to a US bank account and transfer dollars in or out from your dollar wallet.
The biggest upside of Coinbase is its ease of use. It has established very firm security in place. Plus, it regularly updates and improves the whole user experience.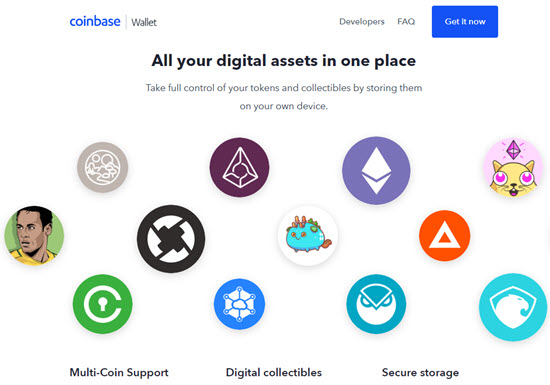 If you are looking out for an online wallet that's safe and delivers high performance, then surely turn to Binance. It comes with multi-tier and multi-cluster system architecture that goes on to deliver full safety and stability.
It's known for its high performance and is capable of processing 1,400,000 orders per second. It works across all devices such as Web, Windows, Mobile Web, Android, iOS, and macOS.
It has multiple coin support such as BTC, ETH, LTC, BNB, and more. Its team has vast experience in crypto finance. The Binance platform has been deployed successfully on 30+ exchanges already. It is one of the fastest exchanges in the market today.
It's one of the most popular as well as the safest crypto wallet for investing and storing cryptocurrencies. It's one of the most trusted cryptocurrency/Bitcoin wallets and has the lowest fees in the industry.
Blockchain offers full control, back up your funds, and even protects them from unauthorized access. You can send and receive cryptocurrencies with the lowest fees.
It supports BTC, ETH, BCH, XLM, and USD PAX. You can exchange crypto-to-crypto within your Blockchain wallet. It supports Cryptocurrency buying and selling in 36 countries. Your Blockchain Wallet is ready to be on the go allowing you to access your funds anywhere.
It's a powerful Bitcoin and Bitcoin Cash Wallet. The BTC.com wallet allows you to send, receive, and store your funds securely. It delivers security, privacy, as well as power to own your wealth. You can send and receive payments without trust or permission from any third party.
It allows you to send and receive Bitcoin easily and securely. You get full control over your Bitcoin private keys. You don't need to use QR Codes or long addresses for paying your friends. So, BTC.com makes your digital life easy.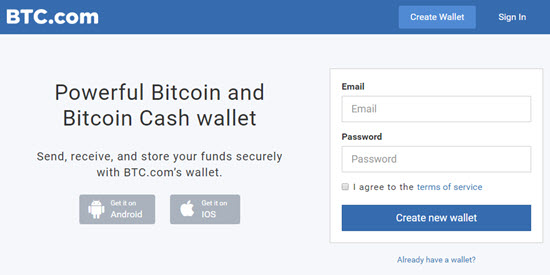 Well, that's all we have for you in this post on the best Cryptocurrency/Bitcoin Wallets. We hope that this post proves useful to you. Please do share your comments with us and don't forget to share the post on popular social network channels. Thanks for reading!