Cryptocurrency exchanges are a crucial part of the Cryptocurrency ecosystem, allowing you to buy and sell Bitcoin and a whole host of altcoins. Also, a handful of cryptocurrency exchanges provide margin trading for more advanced traders.
There are two types of exchanges; fiat exchanges allow you to deposit fiat currencies such as the US Dollar or the Euro while cryptocurrency to cryptocurrency exchanges deal purely in Bitcoin and altcoins, usually using Bitcoin as the base pair.
You may also like: 20 Best Cryptocurrency Wallets
Exchanges also differ in the coverage of cryptocurrencies; some will only offer the top five cons, whereas others will have hundreds of altcoins available. In this article, we will outline the Top 10 Best Cryptocurrency Exchanges.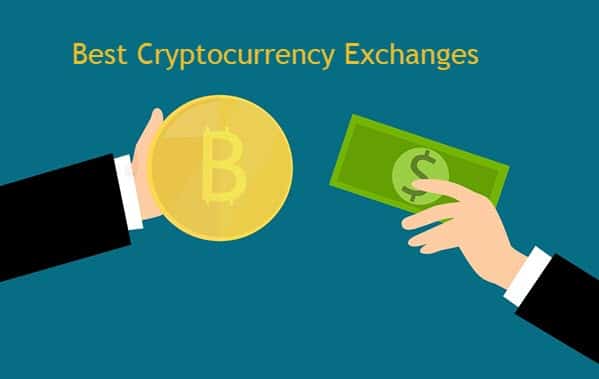 10 Top Cryptocurrency Exchanges
Go through the list of Top Cryptocurrency Exchanges:
While being a relatively new entrant to the cryptocurrency exchange market, Hong Kong-based Binance offers hundreds of altcoins and is a crypto-to-crypto exchange, using Bitcoin (BTC), ether (ETH), and it's own Binance Coin (BNB) as base pairs.
Binance is also one of the most popular cryptocurrency exchanges by trading volume globally since it is available in all countries and US states. As a result, it is growing in terms of users and coverage, opening Binance Jersey, a separate fiat exchange for EUR and GBP in early 2019, and also launched a decentralized exchange dubbed Binance DEX.
One of the best features of Binance's main platform is the Secure Asset Fund for Users (SAFU), which protects users of the exchange in the event of a hack or exploit. The fund is comprised of ten percent of Binance's trading fees and reimburses users in the event that the exchange's funds are compromised.
Like some other exchanges, it also has its own coin BNB, which can be used to decrease trading fees on the platform and incentivizes people to use the exchange.
Binance is a fast-growing, a reliable exchange that has a good reputation and coverage of cryptocurrencies rivaled only by Bittrex or Poloniex. However, there are identity requirements if you want to withdraw more than 2 BTC. Check out Binance here.
Coinbase is one of the longest-running exchanges that have a strong, established brand and wide user base.
Founded in June 2012 by Brian Armstrong, the San Francisco based exchange is one of the largest fiat exchanges in the market and perhaps the most well-known Bitcoin exchange globally. Coinbase is also one of the most user-friendly exchanges that allow you to link your bank account and convert your Dollars, Euros, Pounds to Bitcoin, or vice versa.
You can also use debit or credit cards to buy crypto. Fiat support is available in more than 40 countries according to Coinbase's website. Coinbase is fully regulated in the US, where the FDIC ensures that investors are protected up to a maximum of $250,000.
One tip is to use Coinbase Pro to avoid the higher fees on the main platform. Only a select few of the top cryptocurrencies are available on Coinbase, including Bitcoin (BTC), ether (ETH), ripple (XRP), stellar (XLM), Litecoin (LTC) and Bitcoin cash (BCH), as well as a handful of the more recent additions – which are mostly ERC-20 tokens.
As with all fiat exchanges, you will have to submit your personal information to trade. But if you want an easy and safe way into the cryptocurrency market, check out Coinbase here.
Bittrex, like Binance, is a crypto-to-crypto exchange but has been around a lot longer.
The best thing about Bittrex is undoubtedly the range of cryptocurrencies you can buy or sell on the platform, with over 190 coins on offer. Bittrex is usually the largest 24-hour volume exchange for many of the smaller altcoins that are not listed on other major exchanges.
For instance, Monacoin is a good example of an altcoin that is not available on the major crypto-to-crypto exchanges. A lot of the older altcoins are on Bittrex like Peercoin, Namecoin, Primecoin, and you also have access to every single major cryptocurrency whether it be Bitcoin, ether or Litecoin.
Bittrex has also partnered with South Korean exchange Upbit and in May 2018 introduced fiat deposits in the form of USD.
If you want access to those coins that other exchanges might not offer, then check out Bittrex now.
OKEx has two platforms, one based out of Hong Kong and one in Beijing, and offers a multitude of altcoins, margin trading for some of its customers and also has its own token called OKB. Secondly, only to Binance in terms of traded volume, this exchange is geared more towards professional crypto traders than the typical cryptocurrency enthusiast.
As well as offering crypto-to-crypto trading, OKEx also provides BTC and LTC futures on OKEx, and margin trading with a maximum leverage of 1:20, much higher than other exchanges on this list (Kraken offers a maximum margin of 1:5).
There is also a standalone desktop charting platform that can help you to analyze your trades and market movements.
The transaction fees are very low as well compared to other exchanges at just 0.03% whereas most exchange charge anywhere between 0.20% and 0.25%.
The exchange's token, OKB, is based on Ethereum with a circulating supply of 300 million. OKex's profits will be shared with OKB token holders, with profits in BTC distributed every Friday, and trading with OKB cryptocurrency pairs eliminates all fees.
So if you are a professional cryptocurrency trader or want to earn a passive income with OKB, check out OKEx here.
LocalBitcoins is a peer-to-peer or decentralized exchange that does not take custody of your Bitcoins like traditional exchanges. Rather the Bitcoins are stored in escrow until the buyer finalizes the payment.
On LocalBitcoins, you can find sellers and buyers across the world with many different payment methods available. For instance, you can buy Bitcoin online by doing direct bank transfers with the seller, or you can meet face to face in a public place and buy Bitcoins with cash, which is a real advantage of LocalBitcoins, as it means you can often buy Bitcoin without having to submit your identity documents. For people in countries that are not allowed to trade on certain exchanges, LocalBitcoins is a great alternative.
The disadvantage is that the price is often slightly higher on LocalBitcoins, as you pay a premium for the relative security and anonymity compared to traditional exchanges. There are also a lot of scammers on LocalBitcoins, so the process of buying and selling is slightly different to traditional exchanges, as you will have to check the buyer's/seller's feedback to determine if they are trustworthy or not.
So if you do not want to submit personal identity documents to centralized exchanges, check out LocalBitcoins here.
Poloniex, similar to Binance and Bittrex, is one of the most popular crypto-to-crypto exchanges offering a wide range of altcoins and over 100 cryptocurrency trading pairs. Founded in 2014, the US-based exchange has earned a good reputation but is trying to catch up to Bittrex and Binance in terms of users and volume.
A somewhat unique feature of Poloniex is the ability to lend cryptocurrencies for margin trading so you can effectively earn a passive income from your crypto stash. For instance, you can lend Bitcoin and Dogecoin to margin traders to earn a passive income.
However, it is important to note what Poloniex's terms and conditions say about lending cryptocurrencies:
"Although Poloniex takes several precautions to prevent a User from defaulting on a loan, the high volatility and substantial risk of illiquidity in markets mean that Poloniex cannot make any guarantees against default. When you lend to other users using the Platform's P2P lending system, you risk the loss of an unpaid principal if the borrower defaults on a loan and liquidation of the borrower's account fail to raise sufficient funds to cover his or her debt."
Another cool feature is that you can trade cryptocurrencies with your Poloniex account directly through charting website TradingView, thanks to the exchange being acquired by financial company Circle.
Bitfinex, an exchange based in Hong Kong that was founded in 2012, is one of the longest-running cryptocurrency exchanges, with Bitstamp being older by less than one year.
As a fiat exchange, you can deposit various fiat currencies, including the US Dollar, the Japanese Yen, the British Pound, and the euro. Bitfinex also has relatively low fees, with deposits charged at 0.1% while trading fees range between 0.1% and 0.2%. There are a lot of coins on offer on Bitfinex with over 120 markets, making it similar to Binance, but Bitfinex offers margin trading and advanced trading orders as well.
Bitfinex has been a subject of controversy relating to concerns around the Stablecoin Tether (USDT). There have been accusations that Tether is being used to manipulate Bitcoin markets, with Bitfinex being one of the main sources of Tether and there have also been reports of illegal trading practices such as spoofing on the Bitfinex exchange.
Bitfinex was also subject to a massive hack in 2016 which saw 120,000 BTC stolen from the exchange. However, the Hong Kong crypto exchange socialized the losses – meaning funds from all accounts were used for the refund – and created a Bitfinex token that traders could redeem to get their funds back.
If you are an advanced trader and want access to deep liquidity, then check out Bitfinex today.
KuCoin is a relatively newer exchange but has gained in popularity for its offering of coins with a whopping 428 markets and the introduction of its own coin, KuCoin Shares (KCS), that provides benefits in the form of a user loyalty scheme.
KuCoin has developed a reputation as an early adopter, so you might see coins on this exchange before they are added to more well-known exchanges like Poloniex and Bittrex. As a crypto-to-crypto exchange, KuCoin does not handle fiat currencies at all. Most of the cryptocurrency pairs are based on BTC or ETH, but there are some based on NEO, BCH, USDT, and of course, KCS.
Another advantage of KuCoin is low fees. There are no deposit fees, unlike most exchanges, and the trading fees are generally around 0.1%. If you hold KuCoin Shares, then the trading fees are reduced. However, withdrawal fees differ depending on the coin you want to withdraw and can be very expensive for certain coins, so it is worth checking their withdrawal fees against other exchanges to ensure you get the cheapest fee.
One drawback of the exchange is that it can be difficult to trade during high-traffic periods and is based in Hong Kong, so it is sometimes tricky to find English language support if needed.
So if you are looking for a particular coin that may not be listed on other exchanges mentioned in this guide or you want to benefit from the KuCoin Shares loyalty scheme, then visit KuCoin today.
Huobi is a well-established company founded in 2013 with perhaps the widest global coverage out of any cryptocurrency exchange and some of the largest reported volumes. Initially starting in China, the exchange has expanded to more than 130 countries with its subsidiaries for regions of the world, such as Huobi MENA and Huobi Global.
Similar to OKEx, the exchange offers a wide variety of cryptocurrencies, as well as advanced trading orders, and its own autonomous exchange, where projects can list their tokens without having to apply for an exchange listing, known as HADAX.
The main platform has all the features a cryptocurrency trader would need, including charting, over 450 markets, and deep liquidity. The trading fees on the exchange are about 0.2%, while deposits are free the withdrawal fees are very low. Like some other of the exchanges mentioned here, Huobi has its own token called Huobi Token (HT). The Huobi Token can be used on the autonomous exchange HADAX to vote for which cryptocurrencies should be listed on this platform. The token also acts to reduce the trading fees on the main Huobi platform, depending on how much HT you hold.
So if you want access to a host of different cryptocurrencies and deep liquidity, then Huobi is a great choice. Check out the exchange here.
Kraken is another exchange, like Coinbase or Bitfinex, that has been around for a long time and offers fiat support. A good thing about Kraken is that it offers some of the major cryptocurrencies most fiat exchanges do not offer, such as Monero (XMR). While Kraken does not offer as many altcoins as Binance or Bittrex, there is decent enough coverage to keep most people happy with around 20 coins on offer.
Kraken was founded as a direct response to the shortcomings of Mt. Gox, which founder Jesse Powell visited before deciding to launch a safer cryptocurrency exchange. Since then, Kraken has built a solid reputation, becoming one of the first cryptocurrency exchanges available on the Bloomberg Terminal. The exchange has actively expanded over the years, acquiring several cryptocurrency exchanges such as CoinSetter, Cavirtex, and CleverCoin.
In March 2017, the exchange also acquired Cryptowatch, a popular charting platform that is entirely separate from Kraken but can be used to chart and enter trades by linking your account.
Another good thing about Kraken is that it offers margin trading for BTC-EUR, BTC-USD, ETH-USD, ETH-BTC, and a few more trading pairs. It is the best exchange for euro liquidity, so if you are from Europe, Kraken should be your first choice.
As one of the leading cryptocurrency exchanges with a host of features, you should check out Kraken without delay here.
Hope you liked this list of Best Cryptocurrency Exchanges and don't forget to share which exchanges you are using and why.