The wide support of altcoins and ease of use of the Ledger Nano S makes it a favorite of cryptocurrency enthusiasts.
If you own more than $1,000 in cryptocurrencies such as Bitcoin, it's a good idea to store it in a hardware wallet that is disconnected from the internet.
The Ledger Nano S is one of the most popular models, having sold more than 1.4 million models worldwide. If you own a small amount, it is probably not worth buying.
You can think of crypto hardware wallets as your own vault in a Swiss bank – it's only worth having one if you have a certain amount of money.
Things to Consider Before Buying a Cryptocurrency Hardware Wallet
Briefly remind the reader of the problem crypto hard wallet solves. Describe ideal customer for product category, who should not buy and why and what they should buy instead.
Storing cryptocurrency on exchanges leaves you at risk of losing your funds. An exchange being hacked for Bitcoins or altcoins is a frequent occurrence in the cryptocurrency world. Ledger has estimated that around $1.5 billion has been lost to such hacks over the past ten years or so.
Cryptocurrency hardware wallets have emerged to help investors, traders, and crypto enthusiasts to safely store their cryptocurrency. Exchanges are similar to banks and own the crypto in your account. Desktop wallets can be vulnerable if your PC is hacked or infected with a virus. Web wallets are prone to phishing.
Cryptocurrency hardware wallets try to mitigate all of these problems by storing your cryptocurrency offline. The only time it is connected to the internet is when you sign transactions. Therefore, ideal customers are people who own significant amounts of cryptocurrency and want to store and protect their assets.
However, if you have small amounts of cryptocurrency or you are still learning more and experimenting with cryptocurrency, then there is no need for a hardware wallet.
Here is a list of things you should think about before buying a cryptocurrency hardware wallet:
Design: Is the design distinctive? What is the design of the screen like?
Security: When buying a crypto hardware wallet, you will want to know how secure it is, whether it is open source, whether there have been previously exploited vulnerabilities, and so on.
Supported Coins: How many coins does it offer? Does it offer the most popular coins?
Ease of Use: How easy is the device to set up and use?
Price: Is the device affordable and good value for the money?
Other functions: Can the device do more than just store/send cryptocurrency?
Ledger has been in the cryptocurrency hardware wallet business since 2014, emerging around the same time as Trezor. Both companies are held in high regard by the cryptocurrency community.
When you open the box, you will find the Ledger Nano S USB device, one USB cable, and two sheets of paper to write your recovery seed on, a string on 24 random words that lets you back up your Bitcoin or Altcoin wallets. You will also receive a lanyard to wear around your neck, one keychain, and one key ring.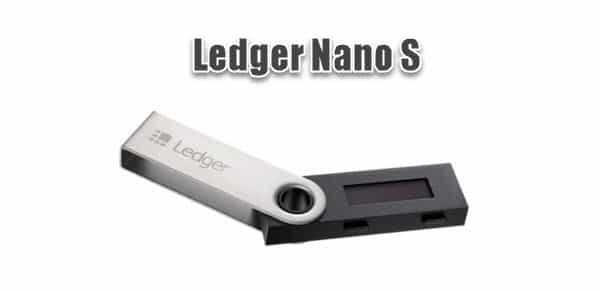 The size of the device is 56.95mm x 17.4mm x 9.1mm and weighs 16.2g, making it compact and looks just like a regular USB device which is good for security. It does, however, have distinctive branding on it, so if someone knew what they were looking for, they would know there was money on the device. However, most people would just think its a normal USB stick.
You have to use the hardware wallet in conjunction with the Ledger Live wallet software package, which allows you to download wallets onto your Ledger device and being to use your wallet to receive, store and send cryptocurrencies such as Bitcoin, Ethereum, and so on.
You will also be prompted to write down a 24-word seed which you need to do privately and keep safe. This is known as your private key and can be used to access your funds if your hardware wallet is lost or destroyed.
Pros:
Stores a wide range of cryptocurrencies, over 1,100
Easy to use and set up
Affordable
Sleek design, looks like a normal USB stick
Reputable company
Cons:
Use of different software for certain coins (like XMR or ETH) may be confusing
The device can only manage a certain number of different cryptocurrency wallets
Ledger Nano S Design
One of the best features of the Nano S is its design as it looks very sleek and looks like a regular USB stick. Since it looks like a regular USB stick, it can be hidden well and used without arousing much attention.
The screen display, powered by OLED lights, has a nice aesthetic with blue characters and a black background. There are also two buttons on the device that you can use to navigate your wallets, while the display allows you to confirm transactions.
Ledger Nano S Security
Ledger is one of the most respected companies developing and producing cryptocurrency hardware wallets, second only to Trezor. Therefore, you can be guaranteed somewhat that the cryptocurrency you store on the Ledger Nano S will be safe.
The Nano S is based on a dual-chip architecture and is resistant to high potential attackers. Your private keys will never be able to be extracted from the device. Ledger also created their own proprietary operating system, known as BOLOS, to add an extra layer of protection around the Ledger applications.
The Ledge website also provides a step-by-step guide to check your device is genuine, so ensure you do this if you decide to buy the Ledger Nano S.
The biggest threat to these devices is the man-in-the-middle (MITM) attacks. A MITM attack works something like an attacker sabotaging one stage of the supply chain to control your private key before you get the device.
For example, one person received a Ledger device with the 24-word seed already written on the piece of paper and was sent different instructions. Instead of storing his cryptocurrency safely, he was sending cryptocurrency to the attackers. Researchers have also discovered MITM attacks in the past that made the Nano S vulnerable, but the company has quickly updated the software and product to ensure there are no vulnerabilities, which is reassuring.
However, one drawback of the security of the ledger Nanon S is that it is not entirely open-source, which means you cannot review the code for yourself to see what the hardware wallet is doing. Ledger is a trusted entity, and there is no reason to think there is anything malicious about the wallet, it would be better if it were open sourced in some way – but it is understandable as they are a business after all.
Nano S Supported Coins
The strongest feature of the Ledger Nano S is undoubtedly the support for altcoins. The device can store more than 1,100 cryptocurrencies including Bitcoin (BTC), Litecoin (LTC), Ripple (XRP), Ethereum (ETH), Monero (XMR), and many more.
The Nano S also stores Bitcoin forks including Bitcoin Cash (BCH), Bitcoin Gold (BTG), as well as code forks such as Dash (DASH) and Zcash (ZEC). Similarly, Ethereum-based projects, such as the fork Ethereum classic (ETC) and ERC-20 tokens like Binance Coin (BNB) also make up a lot the coins supported by the Ledger Nano S.
You can see the full list of cryptocurrencies you can store on the Nano S here.
However, you can store between 3-18 apps, depending on the size of the apps. This means you cannot take full advantage of all of the supported coins if you wanted to. You might struggle to store more than 20 different coins on a single Ledger device since the memory of the device is so low. But you can re-install the apps and your private key and, hence your balance, will be saved.
Ease of Use
For new users, the Nano S is relatively easy to use most of the time. The instructions provided with the device are clear, and the process is quite straightforward if you've ever set up a Bitcoin wallet on your mobile before.
However, the difficulty lies in downloading new wallets for different cryptocurrencies. The design of Ledger Live is not the most intuitive design. I personally prefer the interface of the Trezor One as it feels as if the different cryptocurrency wallets are in the same place, whereas with the ledger they do not feel as integrated.
For example, when navigating to different wallets, there is more friction with the Ledger Nano S, as you have to exit one specific wallet application and find the other one on the device and then click on the button and open it on your PC with Ledger Live. Compared to the Trezor, it is a bit more complicated, as you do not need even to touch the Trezor One to access different wallets.
That's not to say the user-friendliness of the Nano S is not great, but you might have an easier time using the Trezor One if you are not that experienced with cryptocurrency wallets. Otherwise, Nano S is a decent choice.
Nano S Price
If you check out the Ledger Nano S on Amazon, you will see it is priced at $59. Compared to other hardware wallets, it is very affordable, being cheaper than the Trezor One and other Ledger models.
Always ensure you are buying directly from Ledger or one of their approved distributors to ensure that your device has not tampered. You can also purchase the Ledger Nano S directly from the Ledger website here.
Alternatives to the Ledger Nano S
Before you buy a cryptocurrency hardware wallet, you need to see what else is available. We will give a quick overview of the alternatives if you are considering buying the Ledger Nano S.
Firstly, Trezor One comes from the market leader in a crypto hardware wallet, Trezor. The device is fairly similar to the Nano S but does not support as many altcoins. However, Trezor is more respected in the community, meaning that more people trust their device is safe.
Nevertheless, the Ledger Nano S has never been exploited itself, so both are very similar. If you need more support for altcoins, buy the Nano S, if not then you are perhaps better off with a Trezor One as it has a simpler interface and is more user-friendly.
The Ledger Nano X is just like the Nano S but comes with the capacity to store more apps, meaning you can take full advantage of storing most of those 1,100 cryptocurrencies it supports. The Ledger Nano X can store up to 100 apps, meaning you could potentially store around 100 different cryptocurrencies. However, the Nano X is more expensive at around $130 – around twice the price of the Nano S.
KeepKey is just a bit more expensive than the Nano S at $79.99 and is shipped from the US. Overall, it comes a close third after the Trezor One and Nano S as it doesn't store as many cryptocurrencies and has not yet built the same reputation as Trezor and Ledger.
Another drawback is that the KeepKey device is also pretty distinctive and is not that portable, as you cannot walk around with it in your pocket.
Coldcard is a decent hardware wallet that is more expensive than the Ledger Nano S at $99.94. While the design is a lot cooler and reminds me of the see-through Game Boy color model, the wallet does not support many cryptocurrencies, just Bitcoin, and Litecoin.
Conclusion
The great features of the Ledger Nano S are its wide support for different cryptocurrencies, sleek design, and great value for money. Ledger is also one of the leading companies in its field. However, the downsides to the Nano S are that managing many different cryptocurrency wallets can be a bit tricky and it is not that user-friendly for certain coins such as Monero.
If you do not need to store dozens of different cryptocurrencies but need to store more coins that Trezor does not support, then you are best buying the Ledger Nano S.
However, if you are looking to store Bitcoin or Bitcoin and a few of the biggest altcoins and do not mind spending a little more, then you are best off with a Trezor One or a Gold card wallet.
You can buy the Ledger Nano S now from the official store.