Any investment that has a period of 1 to 5 years is termed as a short-term investment. There are various advantages associated with Short Term Investment Options as compared to long-term investment options.
In a short-term investment plan your money is not only invested for a short duration (it can be a year or even a few months), the risks are less, and the money is not kept locked by the bank or financial institution.
Moreover, short-term investment plans give a substantial rate of return (ROI).
In fact, there are various factors which propel and influence your investment decisions.
Among the biggest influences is your liquidity, amount of investment, risk-bearing ability and objective linked planning.
Among these important factors, objective linked planning is one of the major reasons for which people are motivated to invest.
If you are one of those who is driven by objective linked planning, then Short Term Investment Options are best suited to fulfill your goals and aspirations.
In this post, we will discuss some of the main avenues available to you for Short Term Investment Options in India.
Short-term investing is mainly done to fulfill some kind of personal or family needs.
It can be that you want to buy a car, want to go on an annual vacation, wants to gift diamond jewelry set to your beloved, wanted to have the admission of your kid or want to make a down payment of a new flat.
The need and requirements of short-term investment may differ from one person to another, but all require the helping hand of various short-term investment options to invest and grow their money so that they are successful in fulfilling their dreams and aspirations.
We will discuss one by one the various short term investment options in India available to you.
Best Short Term Investment Options in India
1. Saving Account
Savings Bank Account helps to develop the habit of saving money with the dual advantage of liquidity and return on your savings.
The rate of return on Saving Account is low to moderate.
So, if you are looking for the safety of your money and liquidity, you can surely go for it.
It also gives the flexibility to invest whatever amount you desire. So, in one month your savings can be low, and in another, your savings might go up.
Most of the banks in India provide interest rates of 3-5% to 4% per annum on Savings Bank Account. These include State Bank of India, Punjab National Bank, Bank of India, HDFC Bank, Axis Bank, and ICICI Bank.
However, few banks provide interest rates above 4% per annum. For example, Yes Bank and Kotak Mahindra Bank provide an interest rate of 6% per annum on their Savings Bank Account.
RBL Bank provides 5.5% per annum interest rate on Savings Bank Account whereas Laxmi Vilas Bank provides 5% interest rates.
The Airtel Payment Bank provides up to 7.25% per annum interest rate on its savings bank account.
2. Short-Term FDs
If you have a lump sum amount to invest then Short Term Fixed Deposit (FD) is one of the safest ways of short-term investment option.
It gives a higher return than a savings account, and you can use your money after the deposit period is over.
So, if you require money after a particular period, then you can surely go for short-term FDs.
In fact, short-term fixed deposits are one of the most popular short-term investment options for many individuals.
The rate of interest on fixed deposit scheme can vary from 6-9% based on time duration. Fixed deposit scheme can be opened with any nationalized or cooperative banks.
It is a secured form of short-term investment.
The return on fixed deposits is guaranteed.
Moreover, FDs can be easily encashed, making it very liquid.
However, you might be charged for early withdrawals.
The period for fixed deposit scheme can vary from one month to ten years. However, the interest earned on fixed deposit scheme is taxable.
These days, banks have reduced interest rates on fixed deposit schemes. So, you should consider investing in short-term FDs with banks that offer the highest interest rates.
For example, Bandhan Bank is offering 7% per annum interest rate on one year FD scheme.
FDs are one of the best short-term investment options for retired persons and senior citizens as there is low risk involved in investment with a fixed deposit.
3. Recurring Deposits
Recurring deposit (RD) is a safe and reliable short-term investment option.
If you want to accumulate money for a particular and special purpose and do not possess a big amount of funds, but are sure of regular monthly inflows then you should go for Recurring Deposits.
In recurring deposit, you have to deposit money every month.
The duration of recurring deposit can vary from 6 months to 10 years.
A recurring deposit can be opened at a bank or a post office.
So, you can choose between a Bank Recurring Deposit and a Postal Recurring Deposit.
However, the interest earned on recurring deposit is taxable.
An individual has the right to withdraw the money before the maturity date. However, one should withdraw money in a recurring deposit scheme after maturity to get all the benefits associated with it.
In RDs, you are required to put a regular sum for a definite period. RDs have interest rates similar to FDs and can be availed for a period ranging from 6-24 months.
So, RDs are for those who do not have a large corpus of money to invest but have regular monthly income and are looking for safe and risk-free short-term investment option.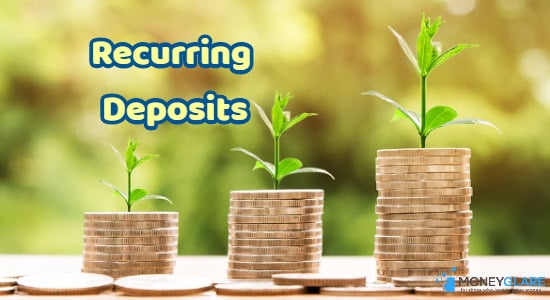 4. Liquid Funds
It is a specialized form of mutual funds that invest your money for a short period ranging from 90 to 365 days in fixed income options.
They include instruments like treasury bills, commercial paper, certificates of deposits, etc. So, the money is invested in short-term securities like government securities.
They provide better returns than savings account together with capital protection and liquidity.
These specialized mutual funds invest in short-term government securities and certificate of deposits.
You can withdraw your money even after one day of investing in the liquid fund.
The entry to liquid funds and exit from liquid funds is easy.
They possess high liquidity value and turn out as a secure investment option for a short period.
Liquid funds offer a moderate return from 4% to 10% depending upon your investment portfolio. Statistics reveal that liquid funds offer better returns than Fixed Deposits.
Investment in Liquid funds proves a good avenue for building an emergency corpus. You can even start a SIP in liquid funds and build an emergency fund that equals 3 to 6 months of your regular monthly expenses.
So, Liquid funds prove an excellent short-term investment option. Moreover, the returns you get are considerably higher than savings bank account.
However, you must do adequate research and understand the tenure of the funds before you go on and purchase these funds.
Some of the best liquid funds are ICICI Pru Liquid Fund, India Bulls Liquid Fund, L&T Liquid Fund, and JM High Liquidity Fund.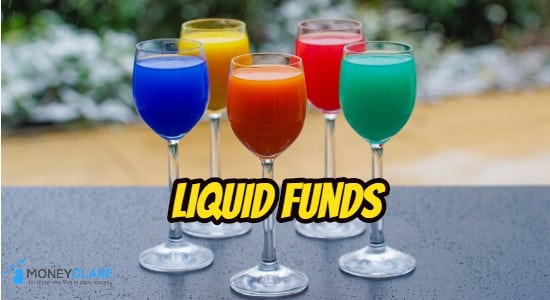 5. Fixed Maturity Plans (FMPs)
Fixed Maturity Plans or FMPs are close-ended debt funds.
They are transparent and flexible short-term investment plans.
They have a definite end date.
They offer high tax efficiency with only dividend distribution tax applicable on it.
FMPs are highly suitable for meeting short-term goals.
The money is invested in debt funds such as government bonds, treasury bills, and certificate of deposits.
FMPs are less risky and offer a decent return on maturity.
You can look for a modest return of 7% to 9% with FMPs.
However, with FMPs, you cannot withdraw money before the maturity period. They have a lock-in period of 3 years.
So, if you are looking liquidity with investments, then FMPs do not prove a viable option for short-term investment.
They are best for those who are willing to take some risk from the investment point of view. Returns are usually higher than FDs but are not guaranteed.
6. Commodities
If you have been looking for some lucrative gains and are willing to increase your risk-taking ability, then Investment in Commodities can be a choice for you for short-term investment options.
You can invest in Gold, silver, Led, Zink, etc. through stock exchange futures segment.
It can give higher returns, but you have to be predictive about a trend over a period to gain benefits else you may face losses too.
So, this type of short-term investment requires some prior knowledge of futures segment, the risk-taking ability and a good amount of money to invest in the Commodities.
Investment in Gold
Investment in Gold is one of the best options to go for when you are considering investing for a short duration.
The yellow metal is a wise option in times of uncertainty.
It offers protection and stability at the time of banking crisis, inflation, or social unrest.
Moreover, the value of gold is not affected by the fluctuations in the financial market.
Plus, the demand for gold is always on the rise.
Gold has given a steady return on investment of as much as 23.5% in the past few years.
7. Corporate FDs
Corporate FDs have 1-2 years of time horizon and have the potential to give a return of 9 to 13 percent per annum. But they carry credit risk and are unsecured at the same time.
So they require a good study of the instrument and proper homework from the investor before deciding to invest in a particular Corporate FD.
8. Short-Term Debt Mutual Funds
If you are looking for safe and high returns, then short-term debt mutual funds can prove one of the best sources for short-term investment.
The money is invested in short-term government securities, corporate securities, and money market instruments.
The short-term debt mutual funds can provide a return from 5% to 8%. However, they are not guaranteed.
Some of the best short-term debt mutual funds options include HDFC Short Term Opportunities and UTI Banking & PSU Debt-Reg.
These debt funds can be used if you are willing to take some risks and willing to invest for one year.
9. Equity Linked Savings Scheme (ELSS)
It is a tax saving mutual fund scheme with a minimum lock-in period of 3 years. It is a good investment option wherein the Long-term Capital Gains tax is 10%.
Previously, the long-term capital gains from ELSS was tax exempt, but now it will face 10% LTG.
As it is an equity-linked scheme, the risk is always there, but the earning potential is also very high.
You can start with an investment amount as low as Rs.500.
These have a lock-in period of 3 years.
With ELSS, you can claim tax deduction under Section 80C up to a maximum of Rs.150000.
ELSS helps to grow your money effectively.
However, you must be willing to invest for at least three years.
10. Arbitrage Funds
It is a good short-term investment option for conservative investors. In case of an Arbitrage Fund, the fund manager buys stocks (shares) in cash and sells them in the future market.
The difference between the two is your return on investment.
So, the profits are made by exploiting the price differences of financial instruments in two different markets.
They are low-risk mutual funds and are suitable for short-term investment of 1 to 3 years.
You can expect returns of as much as 10% by investing in Arbitrage funds. ICICI Pru Guilt Fund has yielded returns of 10% in last year.
So, if you have surplus money in your hand, don't keep it idle.
You should invest in any of these short terms investment options and see your money grow. This way you can reach your short-term goals faster.
The above mentioned short-term investment options can be the best way to park your surplus fund for meeting your short-term goals.