Most of the students are going to smile at first instance after reading the article topic.
College life of every student is like the life of a free bird.
You are out of your homes, no teachers on your head, no restrictions.
College life is to explore new fields and then asking for saving money in college life, keeping the money for future (when you don't have money to survive today) is really a big ask.
However, let me be plainly blunt with you.
Saving money in college is very important and is certainly possible.
Today, we share with you how to save money in college.
Here, we have come up with money saving tips for college students.
So, you get to know how to save money as a college student.
If you are not sure about saving money in college, then simply go on and read this post.
The post list out numerous ways by which you can easily save money in college.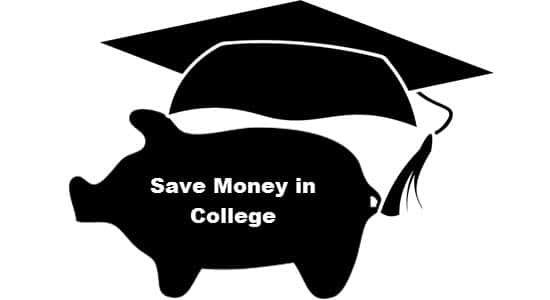 Some aspects of College Life
College life is exciting and challenging for almost all the students.
In some cases, students have to move away from their parents, their homes and have to manage their living along with their studies on their own.
The only thing with which parents helps you during your college life are some bugs that's it.
Rest all you have to do on your own from getting up early in the morning to arranging food and all other tasks.
It's true a student has to face numerous expenses from books to entertainment.
Whatever they are sometimes having they fall short of meeting all their expenses. Some students take up part-time jobs to earn extra money apart from the money their parents give to fulfill their requirements.
So saving money during your college life is very difficult for students.
Saving Money In College Is Certainly Possible
Saving money in itself is of great importance in a person's life and saving money in college life when you have limited money can be really tough.
Some students say it's impossible to save money during college life but as a famous quote "nothing is impossible" in a similar way saving money during your college life is also possible.
Being a student when you have limited sources of money it is not necessary that you have to save a fixed amount.
You can start saving money in small ratios.
When in some months you don't have much expense you can save more, and when you have many expenses, you can save a little amount.
Most important is to save money every month, whether it's a small amount or a huge amount.
Money is very important in everyone's life whether he is a child, student, business person, or a professional. Whatever role is he playing in his life?
Why Save Money in College Life?
To meet any emergency: Future is unpredictable. Problems are part of everyone's life. In fact, the life of students is full of problems.
It could be related to anything, be it your studies, your personal life or anything. So a student should save money for an emergency it could be from buying a book before an exam or to overcome any miss happening.
For fulfilling your wants and desires: Being a student sometimes you want similar mobile phones, laptops, dresses that your friends are having and your parents can't afford all those expensive things.
At that time your savings can help you.
So it is better to save a portion of money every time your parents give you money or from the money you earn with your part-time job.
This way you can have all that you want.
For applying to courses & extracurricular activities: When you are in college you are interested in various extracurricular activities and various other courses related to your studies.
In such situations, you want to give a try, but you hesitate to ask money from your parents.
So, instead of leaving your dreams, it's better to save money and pay the fees or fill the application forms of various courses you want to do.
For taking up tuitions: Being a student you sometimes need last minutes tuitions to prepare for your exams, and you know that your parents will scold you if you ask them for last minute tuitions. If you have your saved money, you can go for any last minute preparations.
When you don't have a job: It's not that you need money only for college life you even need money after college life.
The time gap when you are over with your studies and the time you gets a job for yourself. In this recession oriented economies where getting job is really difficult.
It's really humiliating to ask money from your parents when you are over with your studies. To save yourself from this situation it's good to save during your college life and spend when you don't have a job.

It's always better to save than to borrow money: Not so important point but still being a student you should consider this it's better to save than to borrow from your friends.
While you are in college, it can appear to you a real challenge to save and manage money. The task becomes difficult when you have limited money to you.
But with the above guidelines, you can easily embark upon the path of financial responsibility and that too without getting loaded with bulk of rules and other limitations.
How to Save Money in College Life?
Make a Budget: Many students face problems because they don't manage their funds. So most important of all is to make a budget.
To begin with, figure out total money you have each month.
Then figure out all your expenses, books, food, entertainment and many others. Once you have figured out all your income and expense, you can easily maintain a balance between them.
Make use of used books instead of buying new ones: Most of the part of the money that a student gets from their parents or earns during a part-time is spent on books.
As books are very expensive and you need a number of books for each subject. So it is better to use used books rather than purchasing new books every time.
If you need a book just for a specific topic in a book, you can use your college library books to study that chapter or topic and then return that book.
Eat food in your college canteen: Food is one of the top most priorities in a college student's life. The student actually waste lots of money in college life while eating in expensive restaurants.
If your foods expenses are going very high, then you need to check them by eating food on your college campus only as many campuses provide food at subsidized rates. Collect coupons and go for the weekly sales at the grocery store to buy your needs at a discounted price.
Use student discount cards: You should use student's discount cards no matter wherever you're going. It can be bookstores, restaurants, movie theaters; clothing shops or any other stores now a day's these stores give discounts to students.
They benefit as they hope you will inform your friends for their stores; you benefit as you get to have a discount.
Pay your dues on time: Student life is full of mistakes, and sometimes you make mistakes, and you have to pay in terms of money.
You forgot to pay your fees on time, and then you have to pay late fees charges, and normally these charges are very high so always attempt to avoid these charges by making timely payments of your dues.
Use public transport: Cars can sometimes be more expensive for a student to afford in college life because it's not just buying the car it also includes maintenance of that car. Try to use public transport to travel in spite of using your own car or bike.
Avoid using Credit Cards: Most of the students use credit cards to purchase things. Very often they are useless things. Don't use credit cards to buy anything because with the required amount you may have to pay interest also.
These interest rates are nothing but an extra burden. Best way to save from this extra payment is to avoid using credit cards until the time it's not an emergency.
Avoid Parties & Eating Out: Entertainment is a part of a student's daily life. Going to movies, parties, treats, hanging out at various places they not only waste your time they involve a lot of money also.
A major part of every student's money is spent on entertainment. So try to avoid these parties. It will really help you to save a good amount of money.
Save money on your next computer: Before you buy your next computer, check out for discounts and tax-free days.
Apple, Dell, Adobe are among those companies that offer reduced prices to college students. Plus, there are campus bookstores that offer discounts on laptops to college students.
And don't forget to protect your investment. Do have a lock on your computer and install the latest antivirus software.
Choose to house carefully: It is usually less expensive to live in dorms than to live off campus. You can even split the cost of housing with a roommate.
Focus on your studies: Make sure to complete your degree in four years. Every additional semester is not only a big burden but also requires extra expenses.
Make use of university resources like tutoring and academic advising. It will help you to stay on track with your studies.
Use campus amenities: There are lots of activities that are available on your campus to keep you entertained and occupied.
So, check out what activities are available on campus before you spend money out on the town. In most cases, there are lots of amenities available rights on your campus for free such as fitness classes, etc.
Monitor your cell phone usage: You can sign up for a site such as WhistleOut.com or My Data Manager that will alert you when you exceed your monthly usage.
They even analyze your cell phone bills so that you have the best plan in place. You can even minimize your data usage by using Wi-Fi as much as possible.
Say goodbye to cable: You can watch tons of shows online for free or by just paying few bucks a month through Netflix or Hulu.
Concluding
After going through these ways of saving money in college life, you may start saving money. So, now you know how to save money as a college student. We have illustrated many simple money saving tips for college students.
But these are not the only ways to save money. There are many other ways to save money in college, as well. And saving is important in all phases of man's life. So, try to save more and more so that you don't face any problem in your future.