The "savings" habit is as important for adults as well as for kids.
You must have surely heard the popular saying that, "Small drops make an Ocean." The same also holds true in case of saving money.
Small amounts of money saved today can accumulate into big amounts in the time to come.
Using a Piggy Bank can help you a lot in inculcating the habit of saving money.
A Piggy Bank turns out the first step on your road to saving. It helps you to build your saving on a day to day basis.
Moreover, Piggy Bank makes collecting coins fun. Piggy Banks are available in all sizes and shapes.
The traditional little pig with the hole at the top has become a childhood landmark.
Today, we share with you 10 Piggy Bank for adults and kids which they will definitely use.
A Piggy Bank can be the best option for your little one to start saving. It's a cool and fun way to start collecting coins. It's a perfect anti-looting disguise.
Our collection of Piggy Banks for adults and kids offers a creative way to start the trip of saving money. You can easily stash your spare cash in these crafty and creative piggy banks.
We have made it a point to list out stylish piggy banks that suit you're grown up tastes. They can easily spur your saving habit and can bring thriftiness back into your life.
Moreover, Piggy Banks is the most potent method for teaching kids the value of money at an early age. They can learn about spending, saving, and budgeting.
You can even set up saving goals for your kids. With a piggy bank in place, your kids feel motivated and excited to save money.
So, a simple piggy bank can turn out the simplest and the coolest way of saving money on a day to day basis.
Herein, we have featured 10 of the "Coolest" Piggy Banks that money can buy.
Well, saving money is very important, and you can also start saving from today, all you need is a "Piggy Bank."
Now, let's move straight ahead and see the 10 Piggy Bank for Adults and Kids which they will definitely use.
10 Beautiful Piggy Bank for Adults & Kid
This digital coin bank savings jar by DE is great for all ages.
This Piggy Banks is suitable for both kids as well as for adults.
The kids will surely love watching their savings grow, and the adults will get a landing spot for their change!
It comes with a Digital LCD Display which automatically keeps track of savings. It offers Easy Twist-Off Lid for coin retrieval. This digital coin jar has a simple +- function for reporting the amount removed so that you can get a correct tally of your savings.
Best of all, it accepts all US coins including Pennies, Nickels, Dimes, Quarters, Half Dollars, and Dollar Coins.
It requires two (2) AAA batteries.
This Digital Coin Bank Saving Jar fits your every need.
It allows you to teach your kids how to manage money.
Plus, it helps you to keep track of your savings.
It comes at an affordable price and makes for a great Gift!!
This APUPPY Cartoon Password Piggy Bank Cash Coin Can turn out to be a perfect "MONEY SAFE" for guarding your stuff.
This Piggy Bank can be used for storing things like your paper money, play jewelry, and even the baseball cards or playing card.
It has a coins slot at the top that allows you to use it as a piggy bank.
It comes with an Automatic Paper Money Scroll.
You can put the paper money on the Scroll. It will be rolled into the machine automatically.
It comes with a Rotary Switch.
You have to enter the correct password. The light will turn green, and the ATM can be opened.
The default password key is 0000.
However, you can change it to another four (4) digit password.
In case you forget the password, simply take out the batteries and restart. The password returns to 0000.
It is powered by battery: 3 AA batteries (not included).
Size: L*W*H: 19*13*12 cm
Product net weight: 660g (23 oz)
This BigMouth Inc Fanny Bank turns out to be a perfect gift for the practical jokester in your life.
It's a fanny shaped coin bank that makes fart noises when you drop the coins in its slot.
The BigMouth products have always been a hit with the masses. It is known for designing and manufacturing outrageous lifestyle products.
The BigMouth products (and particularly the BigMouth Fanny Bank) can be the perfect gift for yourself or your friend.
It requires 3 AA batteries.
You will undoubtedly love this coin bank that is shaped as a fanny.
It's certainly a stopper.
Product Dimensions: 6 x 6 x 6 inches
Item Weight: 11.2 ounces
The Americanflat Rainy Day Fund Decorative Shadow Box Frame is true to its name. It allows you to set money aside for a rainy day. It's a "decorative" shadow box frame which is easy to use and comes ready for display.
It offers a slot at the top.
You can drop your coins or dollar bills through this slot.
It has a saw-tooth hanger on the back for a no-fuss installation.
It's perfectly suitable for home or office.
You can place it on any tabletop or mantle to accent any room.
You can use this wood box frame for collecting your spare change. It provides the opportunity to save your extra coins or bills for something special. It turns out to be a wonderful & unique gift for someone you love.
Its unique design reads "Rainy Day Fund" which is printed on the front of the glass. It's big enough for saving a sizable amount of fortune for a rainy day.
The frame is sized 5×7 inches which is perfect for tabletop display. Moreover, the frame is sturdy and lasts long.
You can save for something special with this decorative piggy bank wood box frame.
When you want to spend the money you've saved, just remove the backing of the frame and take out what you've collected.
It's packed with Americanflat developed proprietary packaging ensuring safe delivery.
Package Dimensions: 10.9 x 10.2 x 4.7 inches
Item Weight: 1.65 pounds
This Think Stores Vortex Bank offers you the opportunity to enjoy the experience of coins in motion upon dispensing them down in a spiral bowl.
Now, you can experience the 'round & round & round' as the coins circles down the spiral bowl.
It's a super cool, nostalgic experience to watch the coins circle round and round into the spiral bowl.
It's a desktop-sized spiral piggy bank which will quickly fill as the donations from friends and family keep coming in.
Best of all, it easily comes apart in the middle allowing you to retrieve your donations as and when you want.
It's perfectly suited for your desk and measures at 11.75" x 8.5" x 8.5". The item weight is 1.4 pounds.
The Jssmst Piggy Bank offers a safe and secure way for adults and kids to save coins and cash. It comes as a metal coin bank and serves as a piggy bank for adults and kids. Its unbreakable metal material keeps your money organized and safe.
Moreover, its unbreakable metal material lasts for years. Plus, it's compact for easy carry and storage.
It has enough space for storing coins, cash, valuable jewelry, watch, and other valuable items. This piggy bank has a slot on top that allows you to put coins in easily. It has a strong lock that keeps your money safe and with the key, you can easily take them out.
This piggy bank box is elegantly packaged and comes perfect for kids, boys, girls, teen, and adult. It can be used as a vacation money box for keeping coins and so on.
Using this Jssmst Piggy Bank, your kids can easily develop the good habit of saving money. It's a perfect piggy bank for kids. The Piggy Bank can be used to hold money when you do yard sales.
It comes in two colors: Classic Black Piggy Bank for Boys and Hot Red One for Girls.
Item Weight: 10.7 ounces
Product Dimensions: 4.9 x 3.7 x 2.3 inches
This Kaonashi No-Face Piggy Bank is unique and a must-have for Ghibli fans. It automatically takes your coins and saves them for a later date.
You need to place a coin (coins) in Kaonashi red bowl. The spirit will then "swallow" the money as the music plays on from the movie. It finishes it with a burp.
Product Dimensions: 6.3 x 3.1 x 8.3 inches
Item Weight: 1.39 pounds
Batteries: 2 AA batteries required
This handmade owl-shaped metal sculpture can be used to hold coins or small changes. The owl shaped metal coin bank box has been crafted with the sense of modern design.
It's artistic as well as practical and looks charmingly naïve.
It's a handmade metal sculpture with a mesh design.
This piggy bank perfectly suitable for interior decoration such as bars, dining tables, etc. It serves as a modern piggy bank for adults.
Specifications
Material: iron, paint
Color: dark red
Product size: L11.4 * W10.8 * H14.4cm/ L4.5 * W4.3 * H5.7in
Package size: L13.8 * W12.6 * H17.2cm/ L5.4 * W5.0 * H6.8in
Product weight: 133g / 4.69oz
Package weight: 191g / 6.53oz
Package list: 1*Owl Shaped Grid Pot Piggy bank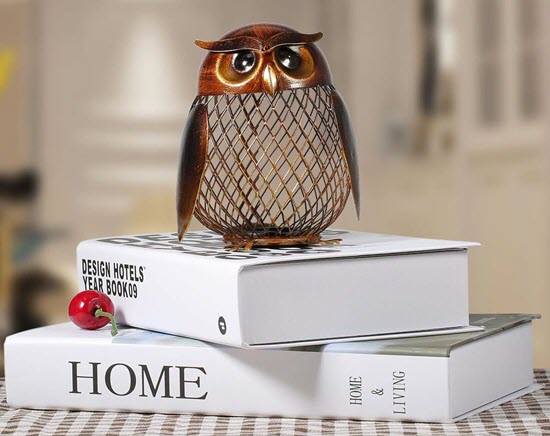 The Matney Stealing Coin Cat Box is a Piggy Bank that will surely make your child love collecting coins. It will be a worthwhile and adorable experiencing for your child collecting coins with this kitty cat bank.
This piggy bank will make your child laugh like crazy as it goes on to steal their first coin.
It is more of a toy and offers a fulfilling experience for your child as they go on to save money with this Matney Stealing Coin Cat Box.
This adorable kitty cat bank functions as a great alternative to the classic piggy bank. It requires you to set the coin on the designated spot while pushing the coin. The mechanical kitten comes out of cardboard box and steals your coins helping you to collect money.
The cat greets you saying "hello" and goes on to take one coin at a time and says "thank you" in return. It is like a real cat that keeps you coming back coin after coin thus making collecting money quick & fast. It's ideally suited for your home, desk, table, or child's room.
This stealing coin cat box can hold approximately 40 (forty) coins. It works on all American coins.
It has a twist latch at the bottom that you can open to have all the money you have saved up.
This Matney Stealing Coin Cat Box requires 2 x AA batteries (not included).
Item Weight: 13.6 ounces
Product Dimensions: 6.1 x 5.1 x 4.9 inches
The Globlepanda Pineapple Girls Piggy Bank offers a fun way for children to save money. It functions much like a ceramic pineapple décor creating a warm atmosphere in your kid's room. They can enjoy and relax in the pineapple-themed room.
This pineapple coin piggy bank is very much eye-catching. It easily catches everyone's eyes on the party.
It is a wonderful gift for girls and comes in two colors of gold and white.
The Globlepanda Pineapple Girls Piggy Bank is made of ceramic material which is durable stoneware and has a rubber stopper at the bottom.
It's a pineapple shaped money box which is great for living room, kid's room, bedroom, bookshelf, and table. It's equally great as a pineapple theme party gift. It is a perfect gift for a party, birthday, and Christmas. You can gift it to your friends, colleague, family, daughter, or even to adults on Christmas day.
It looks like a beautiful ornament on your bookshelf.
Product Description
Material: Glaze pottery
Process: Pure hand
Product: Save money can
Category: Piggy Banks
Surface technology: Plating color
Production methods: Pure hand
Size: 4.7*3.5*3.5 inch
Package includes 1xPineapple Piggy Bank
The significance of having a Piggy Bank
You must have realized that in our day to day activities, most of the times we are left with small amounts of money.
This leftover money from our day to day spending we usually tend to ignore and do not save for our future use or investment.
This leftover money has every possibility and potential of becoming an important part of your savings.
This money should go into your Piggy Bank.
Let me show this to you by taking an example.
Suppose you have decided to take your family on a dinner and so allotted $ 100 for the same. But on the whole trip, you happened to spend $80 in all and so now have $20 left with you. You can do two things with this leftover money.
Either you can spend it on other things, or you can save it by putting this money into your Piggy Bank.
It would be better if you put this money into your Piggy Bank.
Now you need to repeat this action of saving the leftover money in a Piggy bank when you spend on other things as well.
You can also put the money at the end of the day.
Here the emphasis is on saving money rather than on the amount of the saved money. The amount can be small; it can even be as small as $1.
With a Piggy Bank, you can save on a daily basis.
Continue this activity for a month and see what magic happens.
At the end of the month, you would notice that you are successful in saving a good amount of money which otherwise you would not be able to save.
So, you see that a Piggy Bank has worked for you. It has helped you in saving money.
You can do a lot of things with this saved money.
One can continue saving like this for a year and find yourself richer by thousands of dollars. You can go and put this money in your bank account or can have a fixed deposit done with the bank or even can purchase gold or mutual fund or invest in stocks as well.
One small step of saving money in your Piggy Bank can make you wealthy and happy too. In doing so, you have also accomplished the habit of saving money and would have got rid of your bad habit of overspending or unnecessary spending.
A dollar saved today can be of enormous use to you in the future.
Things to care while saving in a Piggy Bank
In line with saving money in a Piggy Bank, there are some points which you ought to take care of.
First of all, you should make it a point not to use the money which you have saved in your Piggy Bank. The basic point is to develop the habit of saving. So you must avoid spending the money which you have saved in your Piggy Bank.
Secondly, once you have seen how much you can save in a month, you can keep this amount in the Piggy Bank even at the starting of the month because now you know that you can meet your monthly expenses easily without requiring this much money.
Thirdly, you should drop the false notion that saving can only start with a big amount. Well, you can and should start saving even when you have a small amount of money with you. Even saving a dollar a day is important.
Lastly, you should always keep the Piggy Bank at such a place where it is accessible to all your family members so that they can also save money on it. All-in-all, saving money in a Piggy Bank would turn out to be a profitable equation for you.
So, it would be very profitable for you to have a Piggy Bank with you. A Piggy Bank though small can prove to be a life changer for you for the better. The money you save today can be used for fulfilling your aspirations.
After all, good financial health is the key to prosperity and well being.
Concluding
With this, we come to the end of this presentation.
It's a great collection of 10 Piggy Bank for Adults and Kids. We hope that you find a suitable piggy bank for yourself and kids.
We hope you will use these piggy banks for saving money. Saving money will surely become a loving habit for you and the kids with these 10 Piggy Banks.