Probably we all our aware of the popular saying that good things should be started as early as possible. Also there is another popular saying which tells us that important and needful acts should not be left for tomorrow. They should be done immediately. So both of the above sayings highlight the significance of starting early.
The same goes about developing healthy habits in children. Sooner you begin imparting and inculcating good habits, behavior and morals to children the better it is for them and for you also as parents. After all your child is your prime responsibility. And one such important habit that is very much ignored (and I can't understand why?) in children is the habit of saving money.
Most of the kids today are even not aware of the importance of money let alone the importance of saving money. I am of the opinion that for this scenario children are not at fault at all. The whole responsibility lies on their parents.
Usually it is seen that parents either fulfill their children wishes totally or scold them for asking too many things. They never try to educate them about what is important for them and what they should not go for. Actually parents should make them understand the difference between 'needs' and 'wants'. Needs can be fulfilled but wants have no end to them. They just keep on coming as wild grasses in the jungle.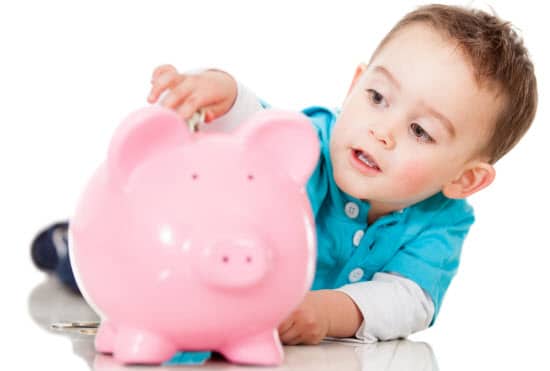 So as a parent if you want to see your children attain an all-round development you ought to teach your children about saving. Here we have come up with some useful tips and suggestions which you can use to teach your children the importance of saving money.
Moreover the points that have been illustrated can be easily followed and adopted in reality. These points are thoroughly practical. If you can take time out from your busy schedule, you can be successful in mentoring your children about the importance of saving money.
So, here are the ways to teach children about the importance of saving money:
Firstly, you ought to teach your children the importance and value of money. You can teach them that before spending you should have that much money with you. Spending can only come out from saving. And it is not the case that you spend all you're saving on one impulsive buying. It is necessary to teach them to avoid making heavy purchases as well.
Secondly, you should give your children a piggy bank in which they can deposit their savings on a daily basis. Saving in small amounts will lead to big value. Alternatively you can also open a bank account for them so that they can save and also earn an interest on their saved amount.
Thirdly, you can fix a weekly allowance for your children. Whatever they need to buy should come from this allowance. So in a way you are making your children more responsible. They would understand what amount they can spend and how much they have to save. This would also lead them to come out of the habit of impulsive buying.
Fourthly, you can also go for setting up some monetary rewards for your children in exchange of some kind of service. For example you can reward them for washing their clothes, cleaning up the dishes, tiding up the house and so on. Thus they actually earn their saving and merely not get the money from you for saving.
Fifthly, you can teach them or rather discuss with them the monthly family budgeting. Be frank with them so that they become aware of what goes in managing and running a family. This would teach them the importance of budgeting, organizing expenses and saving as well.
As a sixth step, you can also teach them the value of setting financial goals, tracking and noting down the day to day expenses, mentor them to set saving targets for the month and so on. You can also teach them the importance of comparing prices of items from shops and can actually show them the benefits of making comparisons in prices of items from various shops when you go out on shopping or buying goods.
And as a Seventh step, do try to reward your children when they perform an act of saving their money. This would surely encourage them to repeat such acts as they would know and expect a positive response from you. This would show them the importance to spend money more intelligently.
As a Final step, you can also choose to give the spending power to your children. Give them the freedom to decide how they would like to spend the weekly family entertainment allowance. This approach would develop in them capacity for planning, executing and controlling. Simultaneously they would also learn where to spend and how to save.
Thus if you teach your children these simple yet effective techniques to save money, believe me your children will definitely learn and would develop the healthy habit of saving money. So, in reality teaching your children about saving is not at all difficult, on the contrary it is rather easy and requires a little bit of your mentoring, patience and interest. Of course all of us do want our children to become responsible citizens of tomorrow. Isn't it so?